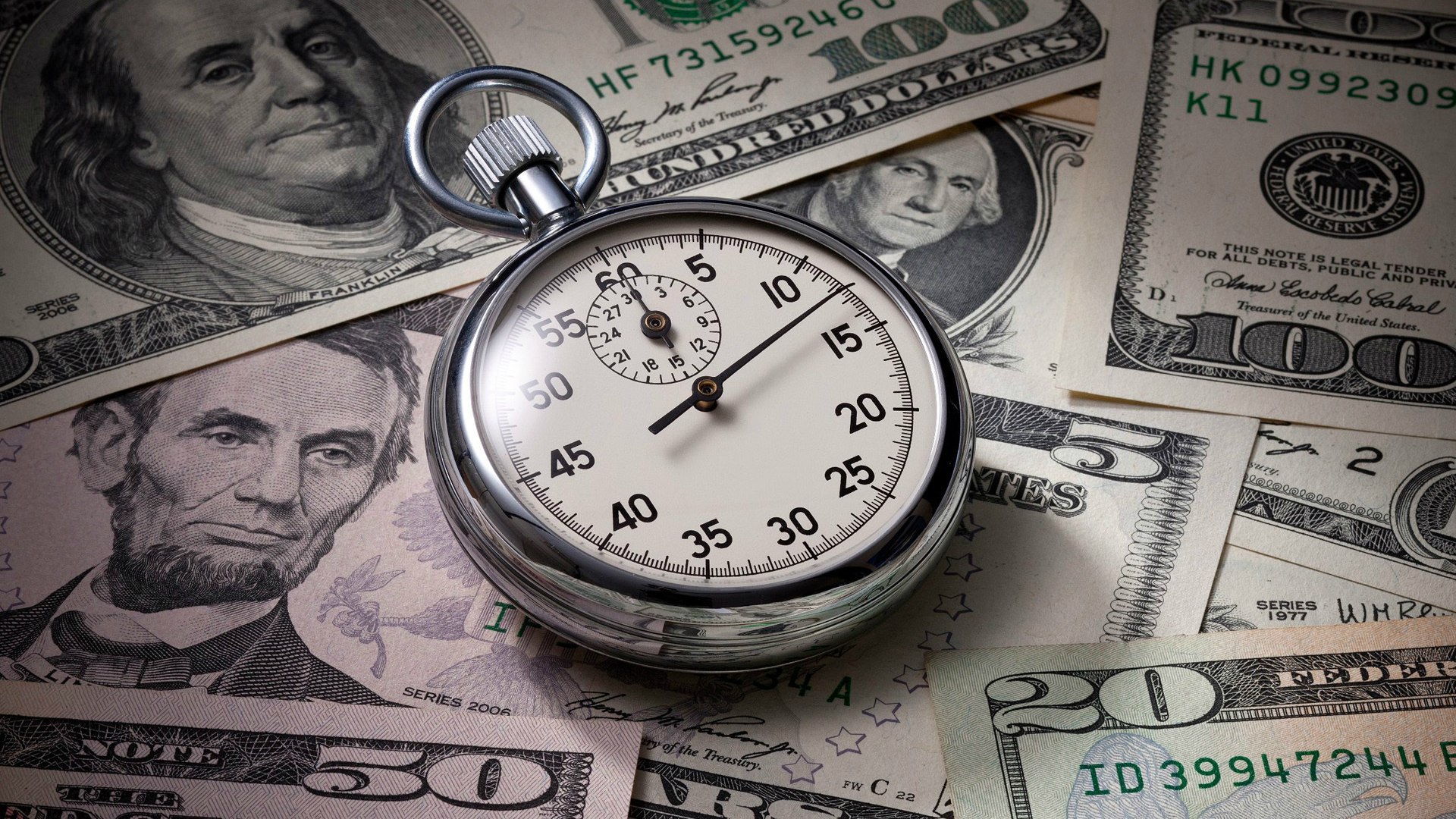 Hoopfellas is back with a "must" article for the summer, as the offseason is still underway. The choice of Value/Money players from various leagues is one of the most popular posts of Hoopfellas. The reason is well known. This year's post is of great interest and we are serving it to you…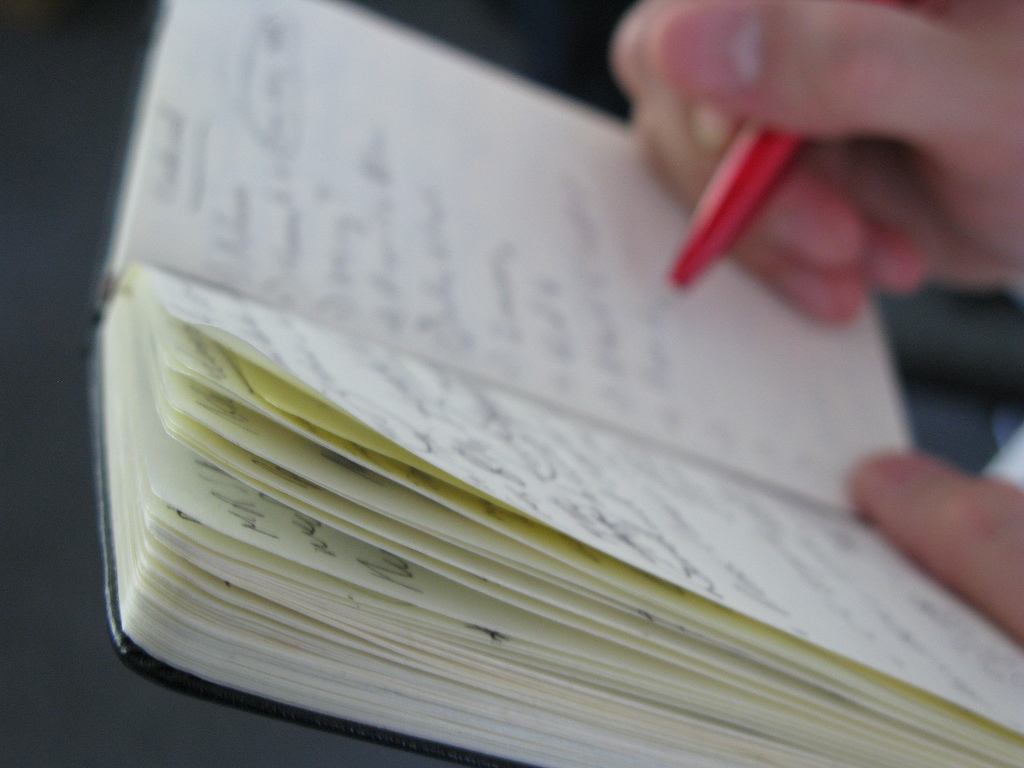 For the seventh season in a row, Hoopfellas' summer list is on your screens with new names and players from different leagues, with different backgrounds in regards to their wages; we may be hearing of these players again soon. Today you'll see the "first wave", and I suggest you keep them in your journal and, depending on the needs, we leave open the possibility of a second post with players with even more lower wages.
Let me remind you that "the chance of having more foreign players in the last few years (in comparison to the past) playing for Greek Basket League teams, allows them to look at "supportive" role-players, not just leaders that will do everything on the floor… In particular, teams that would try young Greek players in the vanguard, and will support them with the right choices from the foreign players market (with players that will not "suffocate" them, but, I repeat, will support them) build the proper basis and at the same time work in the right direction for basketball in our country…"
As usual, in contrast to the symbolic title (made in USA) this list doesn't only include American players. Let's have a look…

James Bell (1.98-SF/PF-1992)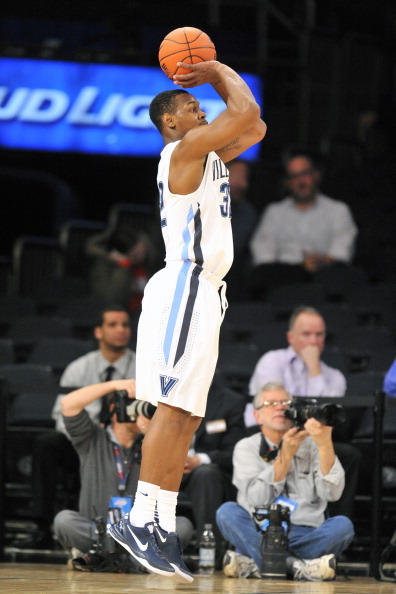 Bell was one of the most complete players of this year's Israeli league, playing for Hapoel Holon, who finished first in the regular season. A player that sprung out of Jay Wright's Vilanova and the 4 out-1 in Motion Offense, which was a very good environment for his skills. In 2010 he was diagnosed with a very rare disease on his shin, the treatment of which (in order for him to keep playing at a high level) required metallic additions from the knee all the way to the heel. Bell (and his great athletic talent) not only was not affected by it, but he kept on improving himself. The assets of the well-trained combo forward from New Jersey is his great physical/athletic package, his versatile defensive ability (he can successfully defend on both lines of defense and in various positions) and his very good outside shooting. His body helps him play at the "4" position as well (SF primary position) with Holon opening up the court in set situations very well this year with him as a Stretch-4. He is not as able in putting the ball on the floor (and play one-on-one) and this is what cost him a NBA contract, where he would play as a swingman. He has played for Cremona and Nancy (where he gained Eurocup experience), but this year he upped his game in Israel and played with confidence, probably as a result of his famous work ethic. A good player with good foundations on his game.
In Hapoel Holon: 14.9 PTS ( 55.7% FG- 38.0% 3PT- 81.1% FT) 5.1 REB -1 8 AST- 1.3 STL
Jason Clark (1.88-G-1990)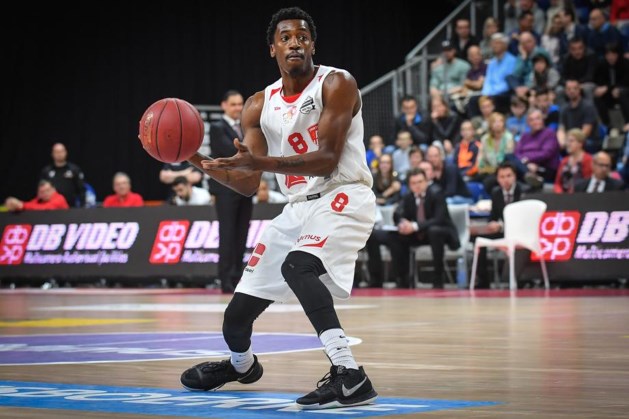 The MVP of the EuroMillions Basketball League. A long-armed guard (wingspan close to 2.04 m.), who was compared to Inspector Gadget in Georgetown, due to his "interference" on the ball with his arms. After four years in Europe (he found his destination north, apart from a break in Turkey), Clark has developed into a complete guard, who can lead his team on both ends of the court. He can defend against all three backcourt positions with his very good athletic package, he can play either as a leading guard, or away from the ball, although it is obvious that he plays better with the ball in his hands. This year he was also reliable behind the arc (he has been streaky from the beginning of his career), which was an important part of his success. He will find his way south soon. He can be a great tool in a more competitive environment.
In Belgium: 15.9 (51.9% 2PT-38.9% 3PT- 82.0% FT) 3.6 REB- 4.5 AST- 1.5 STL- 2.7 TO
Devaughn Akoon Purcell (1.96-G/F-1993)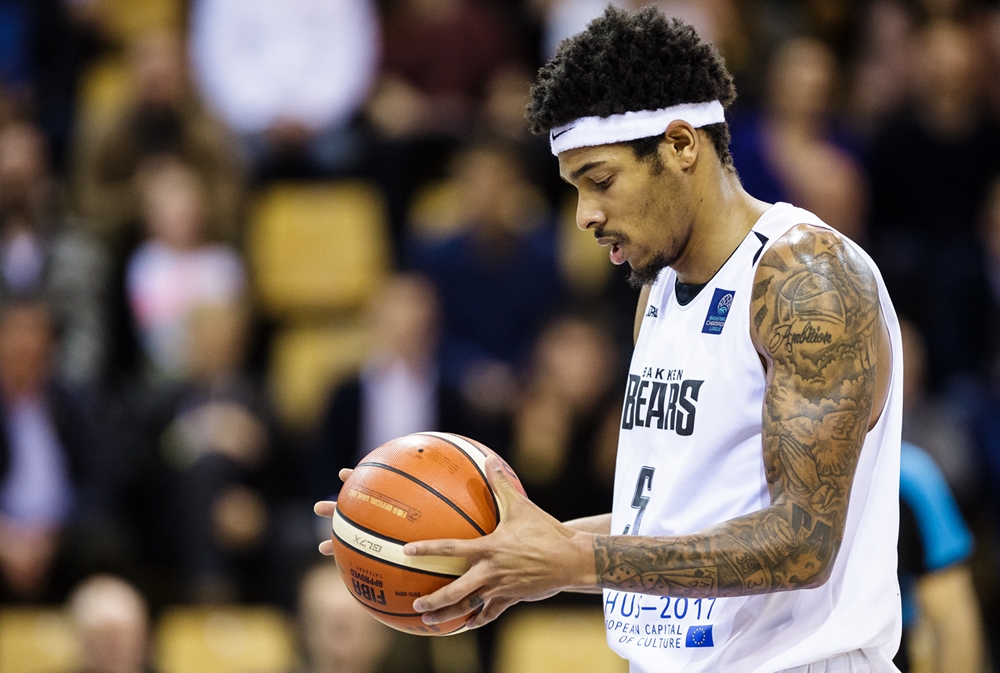 The best player of the Danish champions, he turned a few heads in this year's BCL, despite the fact that Bakken was probably the weakest team in the league. Purcell (we saw him against Aris Thessaloniki) is a long, very athletic G/F, who can affect the game on both ends of the court. He works very well with his hands on defence. He is excellent in transition offense. Slashing abilities. Bakken capitalised on this asset in close out offense. He was also raised in the 4 out-1 in offense of Illinois State, a team that defended with constant switches on defense. He must work on several parts of his game (shooting, passing the ball, although this year he showed progress on these, the competitive level in the Champions League helped him) in order to be more controlled. He is a perfect fit for teams that want to play up tempo basketball…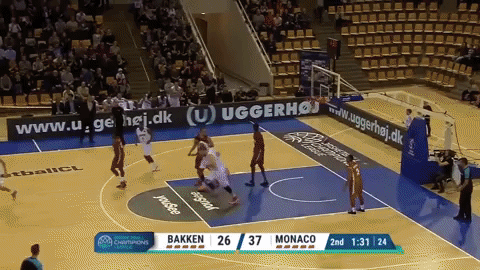 In BCL: 17.3 PTS (46.3% FG- 34.0% 3PT- 83.5%) 6.4 REB- 1.5 AST- 2.2 STL
Adam Smith (1.84-G-1992)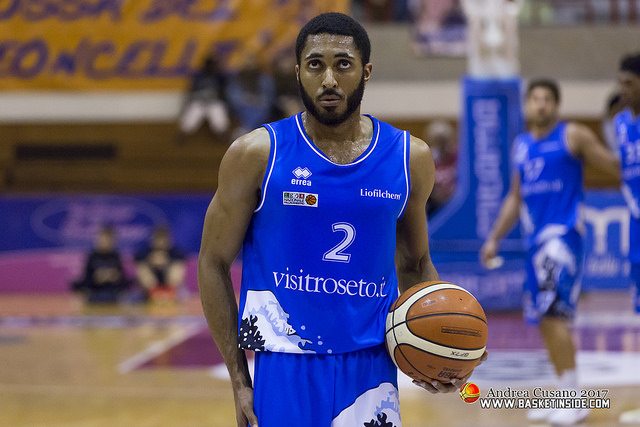 The best guard of the Italian A2. Born in Louisville, Kentucky, he graduated from Georgia Tech (transferred from Virginia Tech) and he stood out this year with the Roseto shirt in the Italian second league. Basically, Smith was too god for the Italian A2… A talented scorer with a step back trademark and characteristic elevation in his execution. In Italy of the scoring PGs, our "neighbours" initially saw him as that, but they soon realised that he is a shooting guard, this is how he came from America, after all. He played next to the veteran PG, Robert Fultz in Roseto (we, "Bolognia people" know him very well), and he was very efficient in using off ball screens for his execution.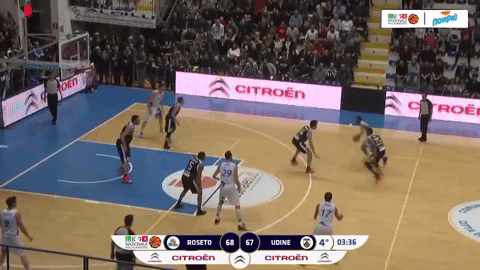 He has the ability to create space before execution against his defender. He reminds me of A.J. Abrahams. Chalon "grabbed" him and got him to sign a contract for the next season. A good move, in my opinion.
In Roseto: 23.6 PTS (41.5% 3PT) 3.0 REB- 2.4 AST
Seth Tuttle (2.04-F/C-1992)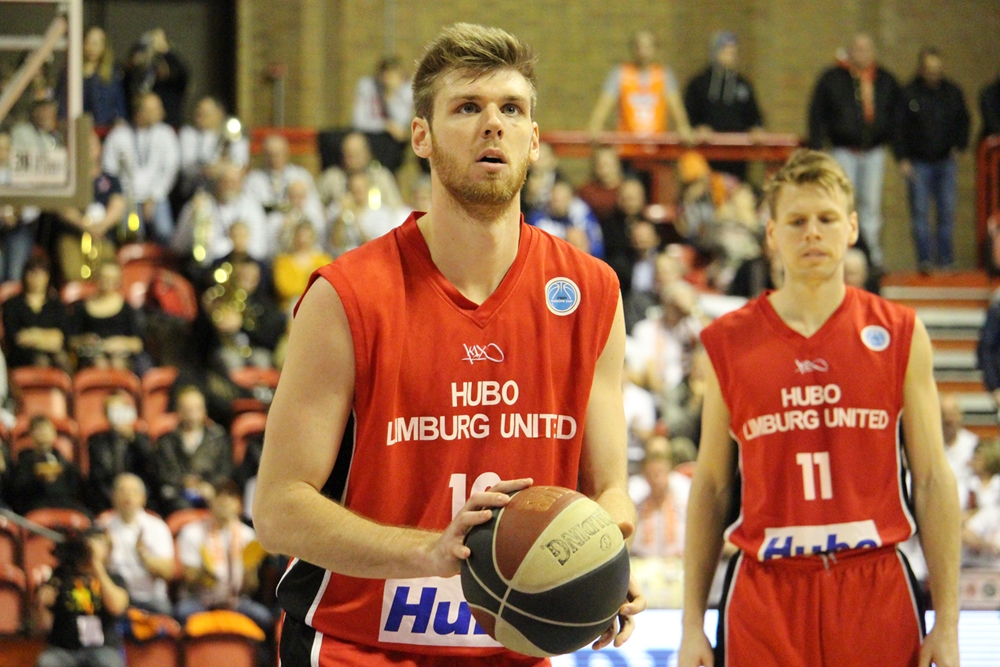 Iowa has developed invisible ties with Germany (ok, there are a lot of German people there from the immigration wave 150 years ago), as lots of the players of this State (Tuttle, Nate Buss, Gabriel Olaseni, Aaron White) turned to Germany to start their professional career. Tuttle (Northern Iowa) played in Wuerzburg last year, and this year he was one of the best big men of the Belgian league, playing for Limburg. The former "Panther" is known for his smoothness and his great ability to play with his back to the basket. He rolls great against his opponent's body. He is not long or athletic, his frame is relatively weak and his footwork needs to improve. However, his ability to pass the ball (an extra asset for his by the book game), in conjunction with his high IQ led to him having no match in the Belgian League. Together with the other great white guy, Brandon Ubel, they were the two best big men of the Belgian league this year. In addition, Tuttle had the best game of his season against Ubel in November (33 points – 10 rebounds – 5 assists).
With Limburg in Belgium: 14.1 PTS (58.3% 2PT- 29.5% 3PT- 81.9% FT) 6.1 REB- 3.8 AST- 1.4 STL- 3.2 TO…
Spencer Butterfield (1.90-G-1992)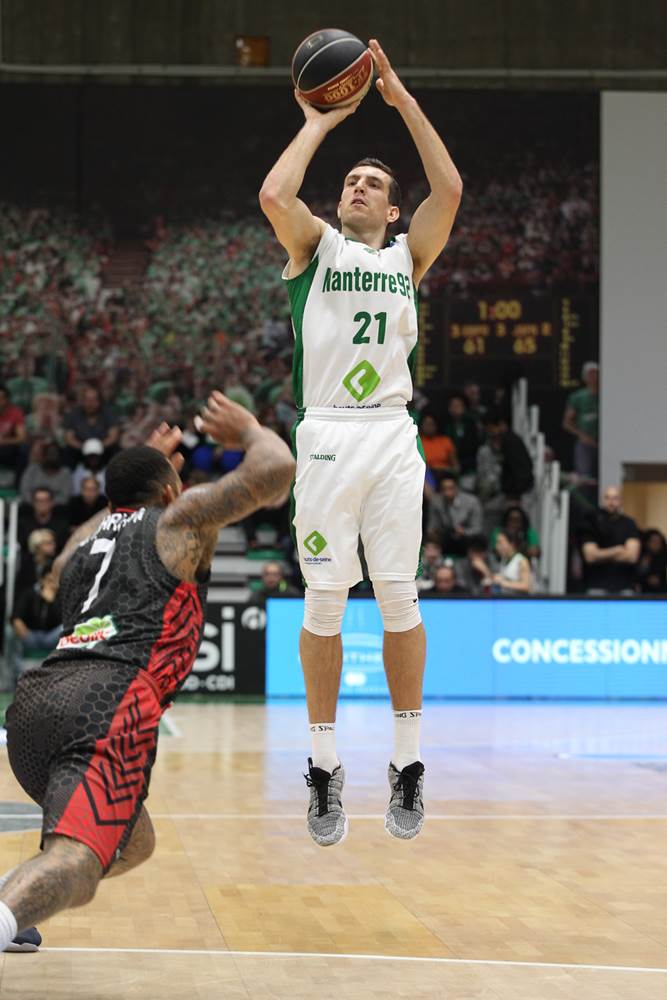 We talked about him last winter. A graduate of Utah State, the college that gave the planet a guy named Jaycee Carroll, Butterfield is part of a special legacy. He undoubtedly is among the best shooters in Europe today. He completed his third professional year (he played for LEB, LKSK, two leagues that are very interested in guards like him) with Nanterre in France, having a great performance against USAK (39 PTS – 11 three pointers) in the FIBA Europe Cup, which turned a few heads. Great execution, perfect mechanics, quick release. Butterfield worked this year on his body (and he should continue to do so), in order to secure better execution conditions for himself. After all, his athletic package is his main disadvantage. He has a special ability in rebounds, which has been with him throughout his career. He needs to work with the ball in his hands. One of his teammates recently told me that Butterfield will be playing in Turkey the next season. I think that the ACB is the ideal environment for him…
In ProA: 12.1 PTS (40.7% 3PT) 4.3 REB- 2.3 AST- 1.1 STL- 1.4 TO
Elie Okobo (1.91-G-1997)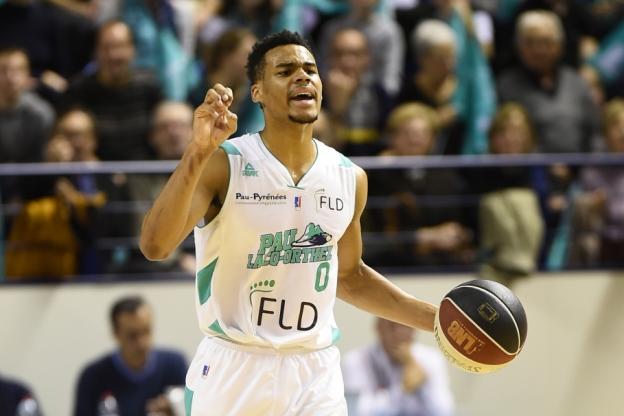 One of the best young Pick & Roll PGs in Europe. Okobo played this year next to the PnR expert and MVP of the French League, DJ Cooper. Born in 1997, the left-handed French guard with the long arms (2.04 wingspan) and the great athletic package covered both backcourt positions at Ortez, and played more minutes in the FIBA Europe Cup (20.4′, 8.2 PTS-3.3 REB, 2.1 AST for 0.6 ΤΟ). In general, his raw material looks very attractive for a young player who can score from everywhere on the court (Cooper took advantage of every opportunity in his back cuts, showcasing the young man's ability away from the ball), go towards the rim or execute after dribble, make big shots and defend successfully. I love his passive mentality, although sometimes it backfires. Okobo must find the balance in his decisions, as his altruism often cost points for his team. We'll see him again soon…
In ProA: 4.6 PTS (52.9% 2PT- 35.7% 3PT) – 2.1 REB-1.5 AST-0.9 TO σε 13.4′
Sean Armand (1.96-G-1991)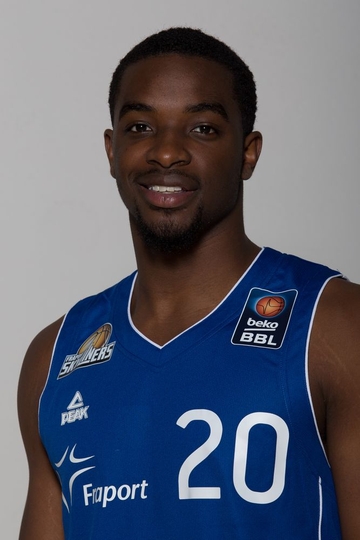 In his second year at Istanbul with Buyuksehir, the former Skyliners off guard showed great improvement in his game, feeding off his experience in the first season, as it was obvious that he felt more comfortable in decoding defenses and handling himself against them. Armand had a great month after the beginning of December, where he scored 19.2 points, and it's really important that he played more with the ball in his hands (running several PnR actions from the middle lane) in a team with guards such as Calloway and Klobucar. Well-trained, very strong upper body, slashing abilities and ability on one-on-one (he has the strength and the variety in dribbling), excellent outside shooting (despite his unusual mechanics).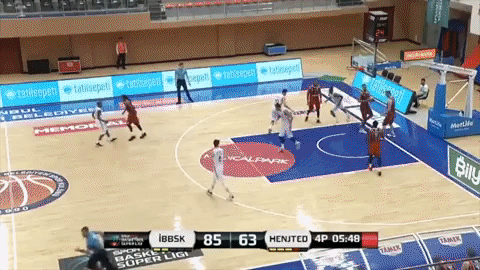 His impulsiveness and persistence are sometimes not good for him and lead him to turn the ball over. This is the first thing he must improve, in order to get to the next level.
In TBL: 14.9 PTS (39.9% 3PT) 3.0 REB- 3.7 AST (3.7 TO)-1.3 STL
Abdel Nader ( 2.03-F-1993)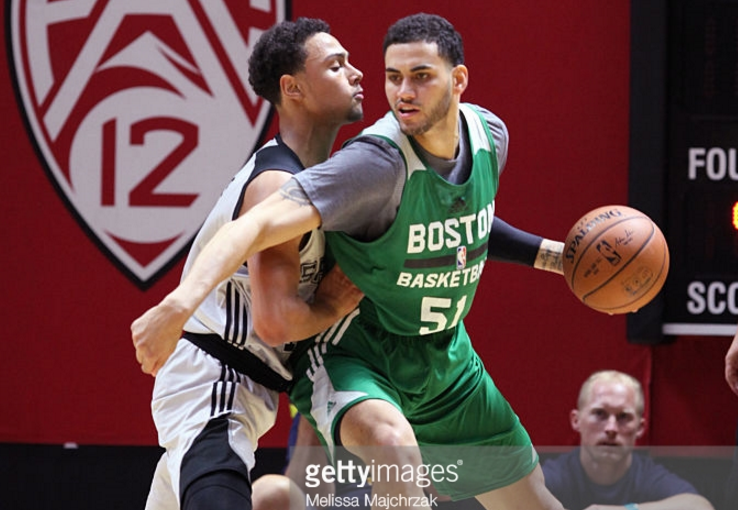 The Egyptian Celtics Draftee is constantly improving, although the "traffic" in Boston in the "3" position is not a good sign (he plays for their SL team at the moment). Nader is a versatile forward with length and athleticism, who can really defend and score. His improvement in his outside execution has posed an enigma on opposing defenses. His shoots from a high point, and he is not disrupted when his defender stays close to him. Also, it's worth following him when he takes the "airstrip" and attacks the basket, where he is able to, among others, finish strong.
In Maine (D-League) they are preparing (under the wing of the Celtics) young players that will have good foundations on their game and strong character in order to develop into quality role-players in the big league, working on the team-first moto in their consciousness. Nader's improvement on playmaking, and in general decoding his opponents' defense, is impressive. The decision of coach Scott Morrison to use him as the main ballhandler in his offense played a major role in this. He is quickly developing into an excellent all around player. Euroleague Material Alert…
Shayne Whittington (2.11-F/C-1991)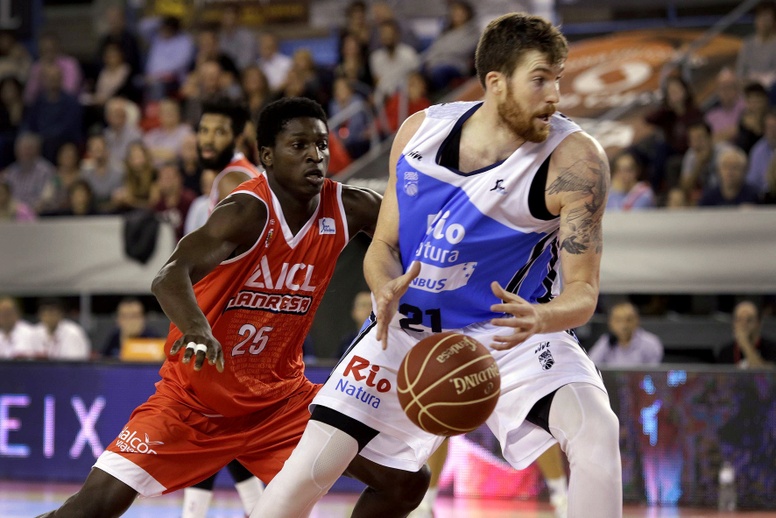 Whittington managed to unfold the virtues of his game in ACB with Obradoiro, playing good basketball in his first European season. His style and his body type do not prepare you for what you are about to see. His is a big man, who knows how to play the PnR, he has Post/Face up game, the ability to put that ball on the floor and shoot quite efficiently from everywhere on the court. The versatility of his "arsenal" reminds me of a less rough and athletic Ben Handlogten (Makedonikos 2002)… He runs the court well, he can defend up high, although not as well as his size and body should have allowed him. I think that he will soon get the call for a better contract.
In ACB: 11.7 PTS (55.4% 2PT- 44/7% 3PT- 72.9% FT) 5.5 REB- 0.7 STL
 Μartynas Echodas (2.06-F/C-1997)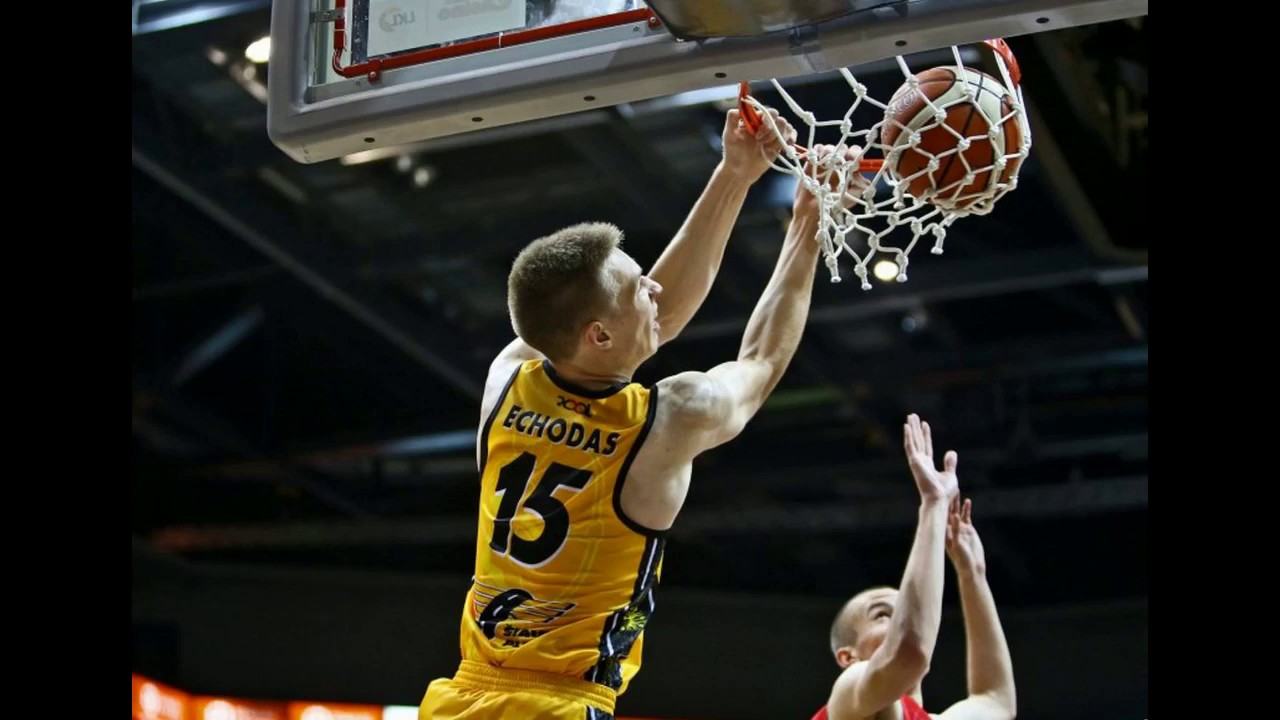 A product of the Zalgiris academies, he was sent last year to Siauliai. Echodas was one of the best big men of this year's Lithuanian League, and showed us a big part of his abilities. Good motor, active hands around the rim that help him finish efficiently, good athletic package. His game with his back to the basket is interesting, although still raw. He should immediately work on his strength and improve his agility in order to step up. I think he has the assets of the typical new generation Lithuanian big man. Keep him in mind…
In Lithuania: 10.9 PTS (51.9% 2PT- 75.0% FT) 5.9 REB- 1.0 AST
Cameron Wells  (1.87-G-1988)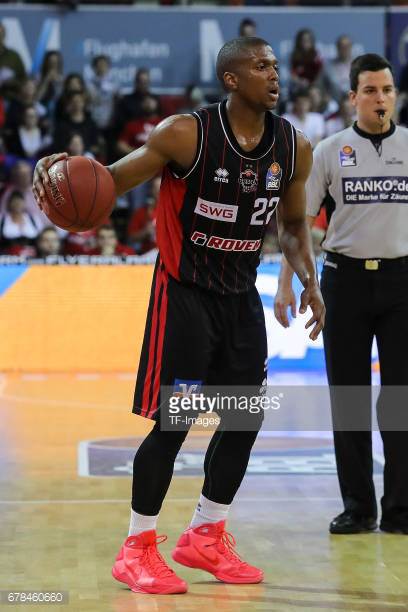 Wells started from low and the German second league to rise patiently and be considered today a quality guard that is being considered by Eurocup/BCL teams this offseason. Back in college he was in the same conference as Steph Curry (he scored 17.2 points, when the NBA super star scored 23.0 per game). This year he completed his third season with Giesse, and he was a real "general" on the court (4.0 assists for 1.7 turnovers, 1.2 steals) and covered both backcourt positions. Very good execution after dribllle, efficient in one-on-one situations going towards the basket. He is sufficiently efficient for a guard that relies very much on his pull up. This year he has to make the next step.
In BBL: 14.0 PTS (53.1% 2PT- 39.1% 3 PT- 79.1% FT) 2.7 REB- 4.0 AST-1.2 STL- 1.7 TO
Marcus Denmon  (1.88- G-1990)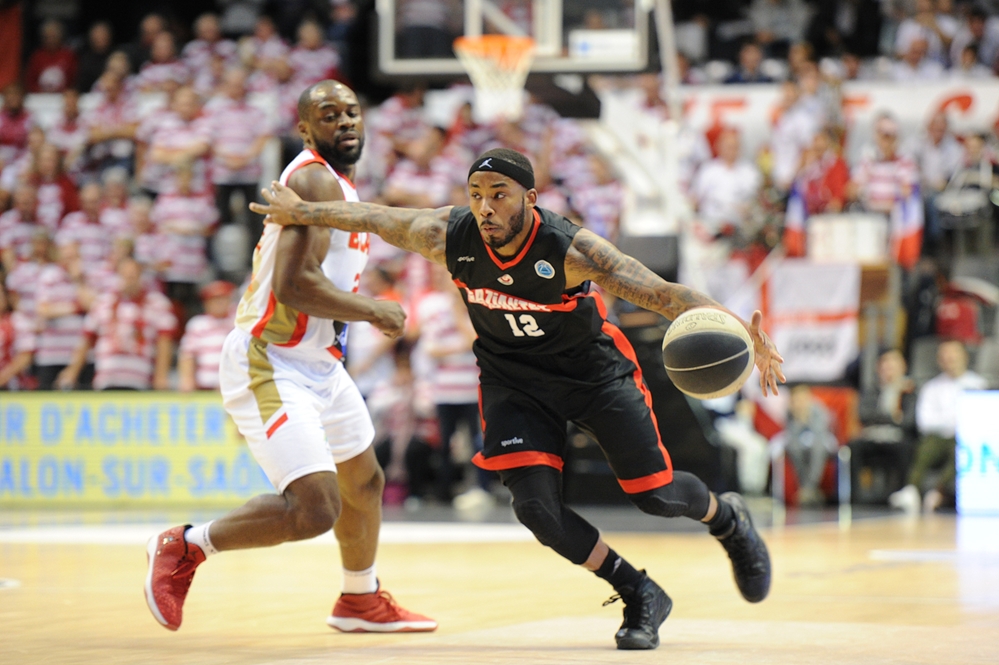 Ok, Denmon is well known and Hoopfellas mentioning him is not some great discovery, but this is exactly why (recognition, Spurs draftee) he was not on last year's lists, I thought we 'd open up a file on him. Denmon is a talented scorer, who is a killer in the open court as well as half court with his ability to constantly score and his scoring skill from behind the arc with spot shooting or (mainly) after dribble. He is a good passer, but he was never able to obtain organising skills, which cost him the call from the NBA. He was great this year with Gaziantep. He is looking for an EL team.
In TBL: 16.1 PTS (52.4% 2PT- 37.1% 3PT- 81.7%) 4.4 REB- 4.2 AST- 1.4 STL- 2.3 TO
 About Lojeski..
It looks like the first walls have fallen after the (supposed) end of his collaboration with Olympiacos. The ball is clearly on Olympiacos' court. The American wing's injury had direct effect on how various teams see him in the offseason, to the point that keeping his current wages doesn't seem like a bad idea for Lojeski. Olympiacos will begin talks on the basis of a slight wage reduction. Lojeski may be a year older (32), but he knows the team's environment and he is still an elite shooter and a significant threat for opponents' defenses from the weak side, as well as in transition conditions. The problem for Giannis Sfairopoulos is that Lojeski is… too good for the role the team wants to cover there. A player with lower wages, with a specific skillset and adjustment rate in a specific context of playing minutes, and mainly more fresh, is what is needed. However, if there's the chance of keeping a main piece of your puzzle in the past few years at a lower price, you have to at least evaluate this chance.

P.S.: L.A. can you handle this…?
Ok, I would die to see how Jack Nicholson's icy look would process Milos in the first few games, and listen to them talk, but I will settle for Billy Crystal. In L.A. they have seen some of the best passers in the history of basketball. Magic, Chris Paul, and now Teodosic. An actual "City of Angels"…
Translated by: George-Orestis Zoumpos
Jim Katsionis