By  Jim  Katsionis on 1 July 2017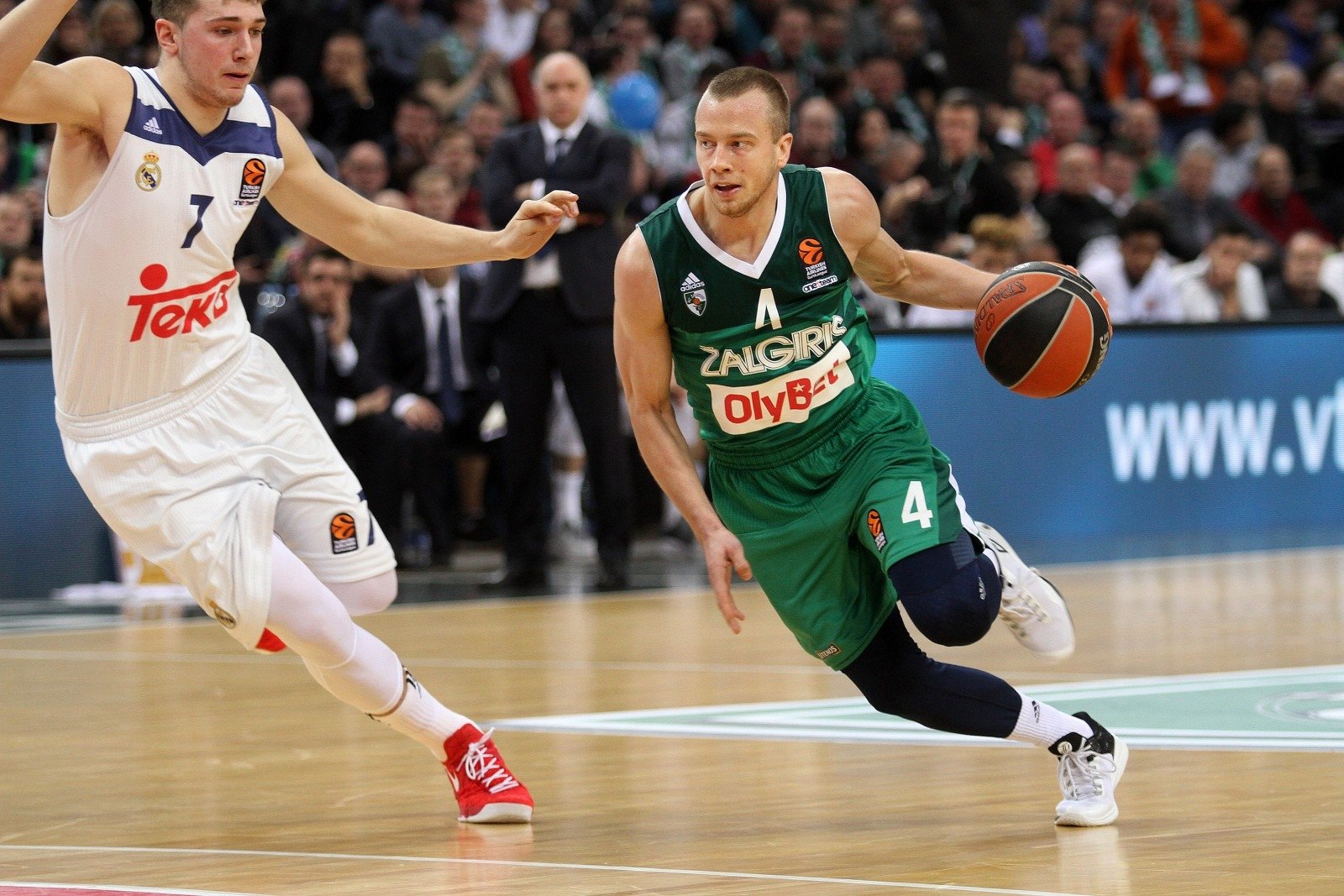 Panathinaikos found their own elf to add to their backcourt deep in the Baltic forest, expecting to bring some of the Lithuanian school magic at OAKA. Hoopfellas on the Hoosier Lucas Lecavicius.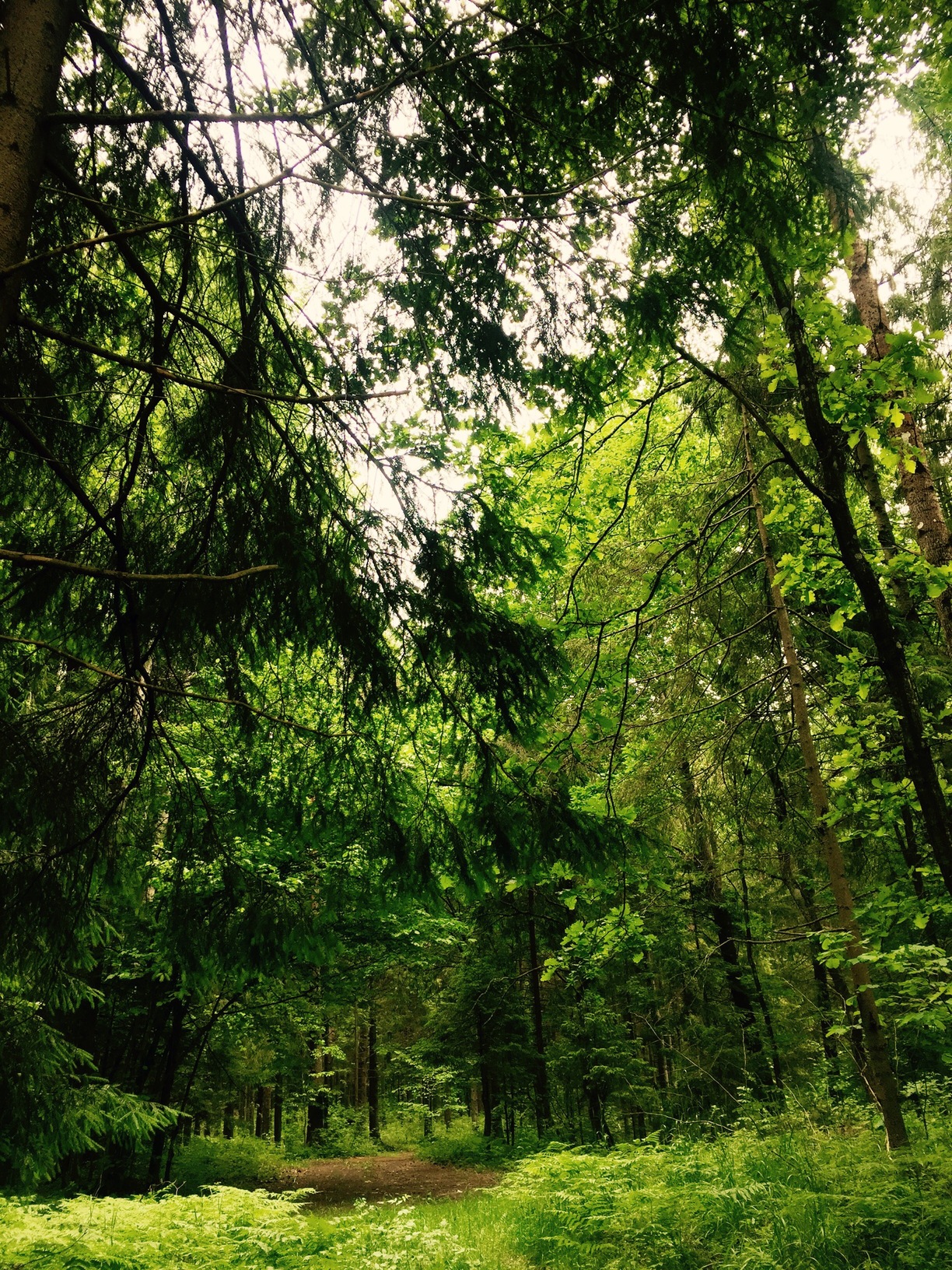 Silale, Lithuania..
Xavi Pascual seems to be close to us in terms of thinking and philosophy. Hoopfellas started this offseason with the names of Janis Strelnieks and Daniel Theis, envisioning a new, more "European" Panathinaikos. The German big man signed with the Celtics, and the "packaging" of the choice of Lecavicius shows that the Greens could have chosen the Latvian guard, who ended up at Olympiacos. Both Strelnieks and Lecavicius come from teams with great offensive environment, as Brose and Zalgiris run the two most fundamental offenses in last season's Euroleague, and helped their players improve on their not so fancy individual assets, by working in depth on fundamental elements such as screening, movement away from the ball, good ball movement, communication between the strong and the weak side, and win significantly on timing (thus matching the not so good level of athleticism of their players) against defenses. After all, the ball travels much faster than a pair of legs… Both teams used offenses with great spacing that produced (as this was the ideal context) situations for everyone on the floor. So, this is important to keep in mind when evaluating the two guards from northern Europe within the season. Numbers don't always tell the truth, which lies in deep knowledge of the skills of a player and their interpretation in a possibly different environment.
I told you before that the new wave of coaches in European basketball tends to like Lithuanian players, as they are considered disciplined and well-trained. This belief is widespread in European benches and is close to reality… After all, we are talking about one of the greatest schools of European basketball, and a country where basketball is almost… a primary element of their lives. Lithuanians commits themselves easily to a situation, they have learned how to live with basketball, being taught the sport in its proper basis, and new generations in particular are very coachable.
Hoosier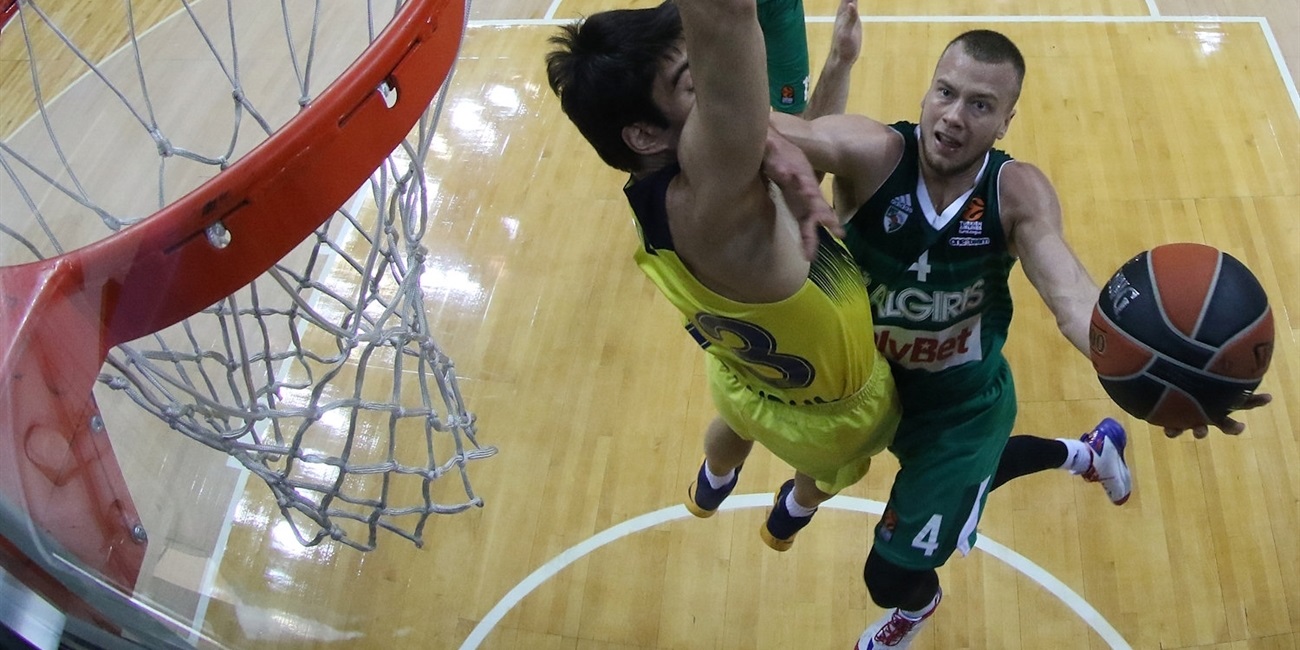 Lecavicius is the typical soft speaking-hard working player the coaches like. This helped him a lot in the Zalgiris environment, as did his collaboration with coach Sarunas Jasikevicius, who reached into the player's inner world and drew strengths, and at the same time taught him that fear equals being off the floor. The only way for Lecavicius to be on the floor was to stay aggressive in every action, matching his disadvantages with the pressure his aggressiveness put on his opponents' defense. This gradually led to the "belief" the player built within the Zalgiris environment. It's the point where a young player can truly show what he can do. After all, if you remember last season, most of Saras' outbreaks on the young guard were when he hesitated. His improvement on the decision area is more than obvious. This shows that he responded to the requirements and the competitive character. I have seen many players "choking" under the pressure of proving themselves, and be unable (even if they wanted to) to reach the point where they return to their coach the trust he had shown them.
His life so far says it all. Born in Silale (a town of less than 6,000 people) he learned basketball by his older brother, but refused to follow his path to American school sports. Every summer he is back in the green forests of his hometown, and starts running early in the morning, a habit that helped him become one of the fastest players today. He lived and he still lives for the game. When he grew up and before he moved to Kaunas at the age of 15, while his friends did something else on Friday nights, he would stay in the court until the lights would turn off. "I used to spend 5 to 8 hours each day in a court that was 2 hours away from my home" he mentioned. The sense of self-punishment shows his work ethics. After a missed free throw, a missed open shot or a bad night, he would stay on the court to "correct" himself. Workhorse… What came next, came naturally, with Lucas going all the way to the Lithuanian national team. It's important for such a young player at the age of 23 to have this kind of chance. An actual dream job. For those who don't know it, teams like Real Madrid or Panathinaikos are especially popular among Lithuanian players…
Scoring PG on one hand, the need to change his offensive philosophy on the other…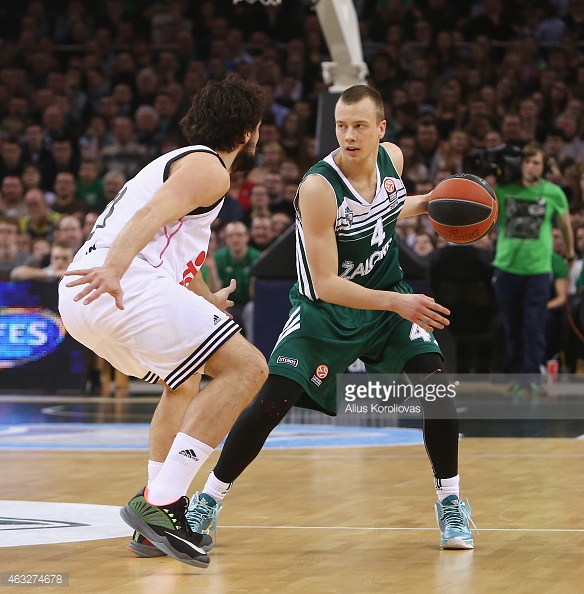 The strongest point in Lecavicius' identity is the pressure he puts on his opponents' defense with his aggressive character. The left-handed Lithuanian is a PnR PG, meaning that he is most productive within that context, with an important note that he primarily is a scorer. Just think that the 1-4 Low Stack was the one Zalgiris used most year in the closing seconds of a period with him on the floor as one of their safe plays. Also 2-3 High Set. Jasikevicius wanted the Lithuanian PG in the middle lane, as he had several big men (Jankunas, Javtokas) who could screen with their bodies after the pick, opening up ways for his left drive. The running floater is Lecavicius' main weapon. He is great in working it by measuring the posture of his opponent's big man and dribble into the lane. The teams that will use slow big men (defending against Panathinaikos' screener) in PnR will have a great problem with the Lithuanian guard in the upcoming season… He has good body control and can execute off balance shots successfully.
One of the assets I think he should work at OAKA with the Greens' staff is his behaviour when he steps in the paint and when playing along the baseline. The expression that characterises him is "early". The decisions he makes early after two speed dribbles when he steps in the paint are mostly successful. He slides towards the basket in an excellent manner, reading the big man's lack of balance or his inability to lower his body, and finishes; he is the type of guard that is not afraid to execute on contact (part of the charm of the underground-old school nature of his game). In the 1-3-1 of Zalgiris he passed the ball very successfully to the "4" (usually Motum) in the corner (again, early) in order for the Lithuanians to take advantage of the Australian's ability to execute short-3s from the corner. Trouble starts when he does not find space immediately and goes in the second line (a "forest" of hands). His size, footing and his short wingspan do not allow him to put the ball exactly where he wants, and this is where most of his turnovers came from. For these reasons exactly, he is lacking the ability to cut the defense in two with skip passes (which can be executed by guards with size, such as Micic-Westerman), an asset that could have given a great boost to a Dribble Drive Motion offense.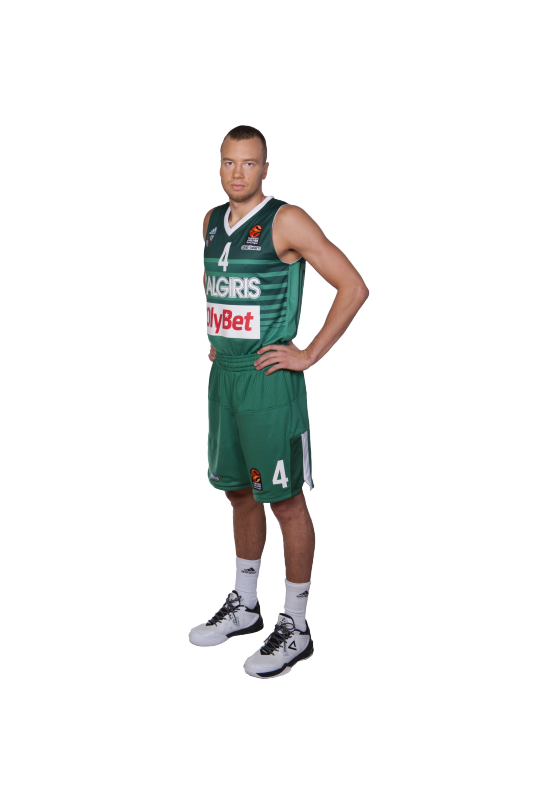 Last year, even before the Pascual days, Hoopfellas focused on the nature of the Greens' offense which contradicted the work of the Catalan coach in Barcelona. Their offense had a tendency towards one on one that often made them predictable, which became obvious during the playoffs against Fener. Hoopfellas justified Pascual's choice as a "practical" one, meaning that he found a certain group of players, and therefore, there would have been objective difficulties for each of them to reach their maximum productivity while trying to work on something new in the middle of the season. This is what their skills were "screaming". I think that this year Panathinaikos will try to look towards a different direction. With Lecavicius as the backup "1", the Greens must invest for the "2"position in a player with proven quality (you have to pay good money for this), who, apart from developed scoring instincts, will also have be a good shooter from behind the arc and will be able to play at the "1" position, if needed. This is why, in my humble opinion, the choice of the "best scorer and one on one player in Europe recently", Keith Langford, is probably not ideal. Yes, between the well-known names in the market, Goudelock would be the better choice (as an executive shooter), however, the Greens will ideally need a player who can also play at the"1" position. Above all, however, they must build an offense mostly based on ball movement. If they expect that Lecavicius will be efficient in a pure one on one offense, I can see us be making lists in the middle of the winter…
Creation and shot
As you understand, Lecavicius is not a great creator nor has is his playmaking developed enough to make the difference in half court. This is an aspect he will need to improve in a team with more individual quality than Zalgiris and more "weapons" in its offense. In contrast to his last team, which relied heavily on his instant scoring and tendency to attack the basket, Panathinaikos will require Lecavicius to be more passive. His good AST/TO rate (3.5/1.7) and the player's willingness to pass the ball (willing passer, he proved so whenever needed) is a good foundation. Anyway, he's far from being considered technically complete and his passing technique is not of the highest level. When he was on the court for Zalgiris he showed a tendency towards PnR offense. In this situation, he was still No4 in points per possession in the Euroleague, 0.997 behind CSKA's duo (that launched a Heavy Pock & Roll offense and, therefore, invested heavily in these situations) De Colo-Teodosic and Llull. Of course, the image is the "key". Lecavicius isn't the guard who will often aim for the big man's dive. He cooperated in harmony with Jankunas (Saras often put them in the strong side together in 2-2 situations) in the main lane working patiently (frequent rescreens) aiming at reaching the desirable result, mainly counting on the veteran's pop out. He uses bounce passes a lot coming out from the screen with the ball and often looking for the supporting big man of the weak side down low. To cut a long story short, he is after the simple passes, because that's what he can do. So, Panthinaikos has obtained the services of a fairly efficient Pick & Roll guard, but not a great playmaker which was what they needed behind Calathes since the beginning of last season.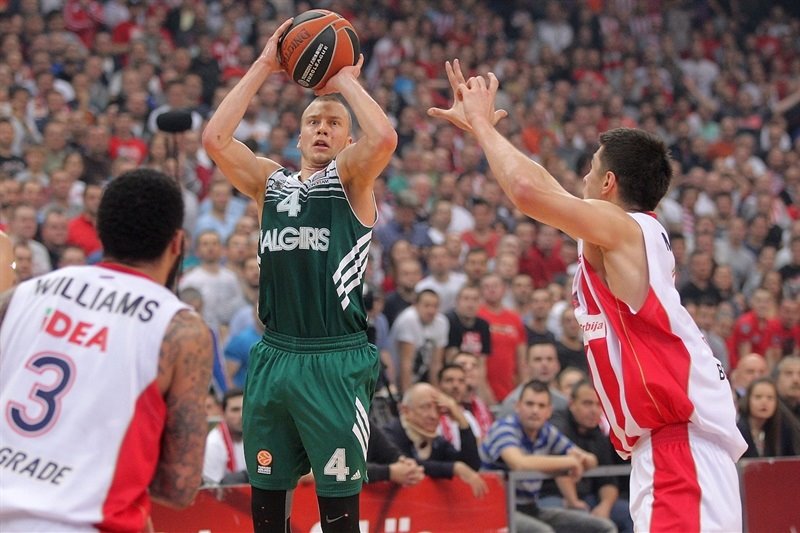 Let's move on to outside execution… Lecavicius is a reliable shooter and this was one of the reasons why Xavi Pascual chose him to come behind Nick Calathes at the "1" position. His execution after dribble in conjunction with the efficiency of his running floater is almost the entire truth for his productivity in PnR situations. Guards that are able to execute midrange after dribble are harder to read in modern basketball and they capitalise on this skill in spaces, as defenses have to adjust. The big man that will stay Flat and in a poor defensive balance against the Lithuanian will be in trouble. His mechanics are not perfect, as he releases one click earlier in the process that begins when his feet leave the ground, but this happens with many small guards who don't have good footing, and it's the only way for them to avoid the long arms of the taller defender. In Lecavicius' case, it's not pretty, but it's efficient.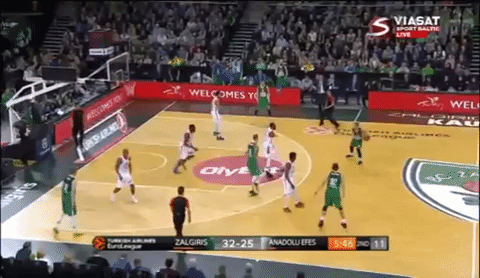 For example, coach Trinkieri decided to defend UNDER against him on the PnR in Bamberg, which led him to have a career night (29 points). Coaches in the Lithuanian league, who assessed differently his scoring instincts (a much more important parameter than cold numbers in outside execution) did not follow this type of defense against him, but we should take into consideration that their general philosophy and their "tools" did not allow them to have a more aggressive approach (for example "switch", as Jankunas is unmatched in the low post). His trademark is a small jump before he executes, which helps him find balance when he gets in execution time. A very efficient free throw shooter, even though his physical package does not help him visit the charity line often. Last year he only shot 54 free throws in 30 games in the Euroleague…
Defense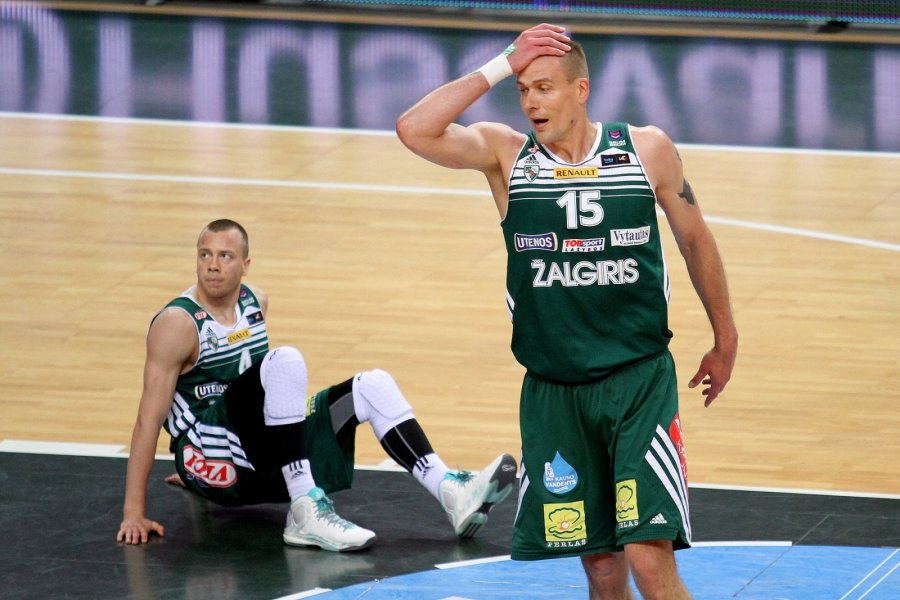 This is the point everyone will need to study. I think that in the "Clover" they will need to take into account the impact an addition with Lecavicius' package will have in their roster, and cover any gaps this will create on the defensive end. In a defensive minded team that last year focused on aggressive defense in the half court (especially in the second half of the season) the Lithuanian player's limited physical package is going to be targeted by opponent, as miss matches will be created. Apart from his height disadvantage, Lecavicius does not have long arms and, mainly James' footwork to follow the execution of guards (let alone big men). His effort may be more than reliable (it could not be otherwise, as he is a guard without significant athletic assets and this physical package) and his fighting spirit (he is not afraid to get involved in screens or to dive for a contested ball and sacrifice his body) is significant, but in general, his behaviour in relation to the defensive direction of a team that is considered among the European elite, is considered limited. Coach Jasikevicius often used him to defend against off guards, who shot in ball screen offenses in the half court, but he quickly understood that after being stuck in a screen, it was almost impossible for him to follow the execution, due to his small size and elite athleticism (where gradually Zalgiris used a taller player). His footwork also needs work. He often lost his position against a change in direction of the opponent ballhandler, and in the back line he was a non factor, despite his will to be consistent in Box outs. He was average on the ball, as he is not a ball hawk, and his weakest point is his side steps against a close out offense.
The Greens already have two big guards (Calathes, Pappas) and they should take into account the defensive instincts of any transfer targets in the wing positions, since Lecavicius will be getting the 15 minutes of the back up PG in the rotation. Last year Zalgiris relied on the size of its frontcourt in order to cover the presence of guards, such as Lecavicius and Pangos, but it was obvious that at a higher level, their lack of athleticism (deriving from the disadvantage of the bodies of its main PGs) cost them. This is what they tried to change this year in the offseason with O'Neale-White-Davies and, of course, Bost at the "1" position.
A choice in the right direction, hoping it will be the … right choice.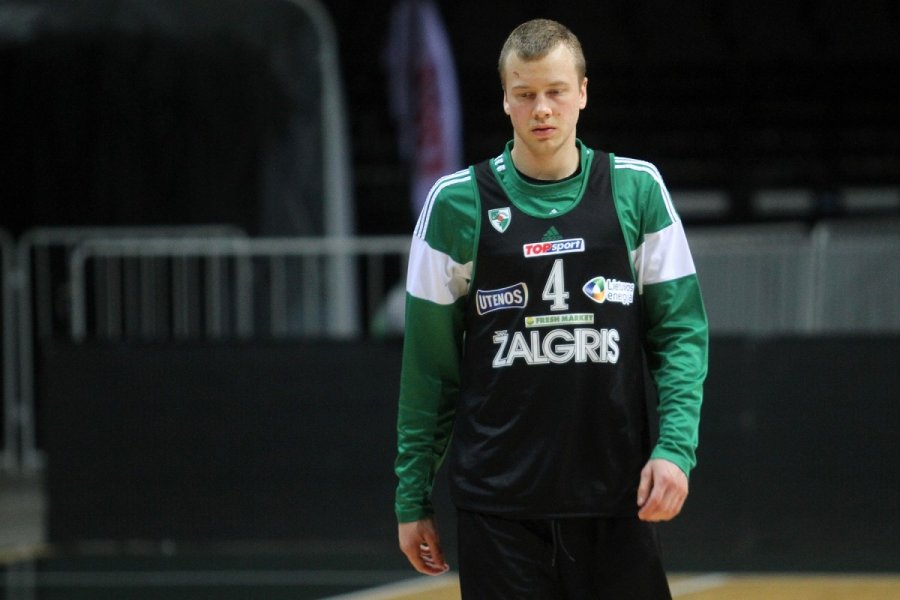 Panathinaikos made a choice in the right direction with Lecavicius, which includes many of the ingredients that Hoopfellas has named as the "compass" in the market. He is a young, ambitious player, with the right mindset, motive and eager to prove himself, and, mainly, a player who has committed himself to basketball, and has worked tirelessly to improve himself. As we've said before, such players may find it difficult in their transition to a different environment, but they can give their team a boost, usually in the second half of the season, once they start developing their characteristics within the new context their coach sets. Lecavicius has many things to improve at OAKA, and, yes, maybe the Greens needed a more ready player in their backcourt, who will be able to help immediately. However, this is where the game begins… Panathinaikos must prove that they can help young players, such as the 23-year-old Lithuanian, improve and develop. This requires the existence of know-how, a specific plan for the player, and faith and patience in the entire organisation. So, the efficiency of this transfer is in the hands of the Greens. Their point of view (and their vision for the new kind of basketball style of the team) will determine the improvement rates in terms of individual players as well. Is Panathinaikos still able to create a new Jaka Lakovic or a new Mike Batist…? You know, the existence of such knowledge in several cases equals titles, in the sense that when you do have it, you can reach a point where you can turn anything you touch into gold… Then, taking into account the size of the brand name, the return to the top will only be a matter of time. This is the greatest challenge for Xavi Pascual at the moment…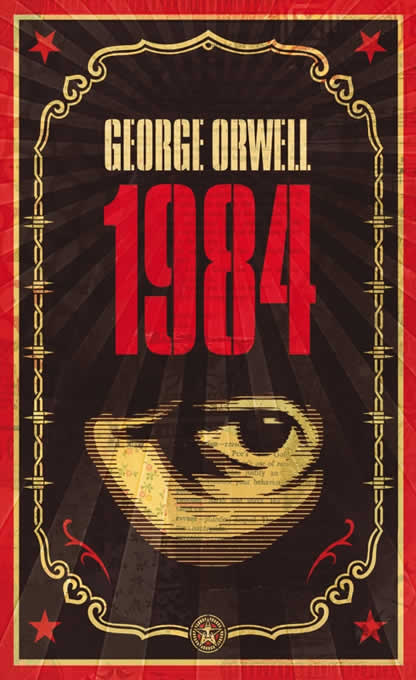 P.S.: In Orwell's dystopia of "Big Brother", shrinking the language was a tool to confine thinking. Reducing the words was reducing the intellectual level in a direction similar to the ones of earlier, simpler human societies, whereas more advanced societies created more complex language systems.
What I mean is that we shouldn't confine out thoughts in 20-25 names of well known players from the Euroleague/Eurocup that are recycled as possible transfer targets of our teams. It is shallow and boring, it goes against our thinking and our imagination. The market is huge and spreads all around the world. The "eternals" will wait until at least the middle of July… The offseason is not only an opportunity for dreams and rumors, but for a deeper dive into the world player tank, which may be beneficial for all of us in our community and the way we get informed and assess, so we can have a more comprehensive view, and have better insight in terms of knowledge and, mainly, thinking. Open doors, read, keep notes, evaluate and you will see that as time goes by, we can all improve on our view, in terms of the market and, in general, basketball…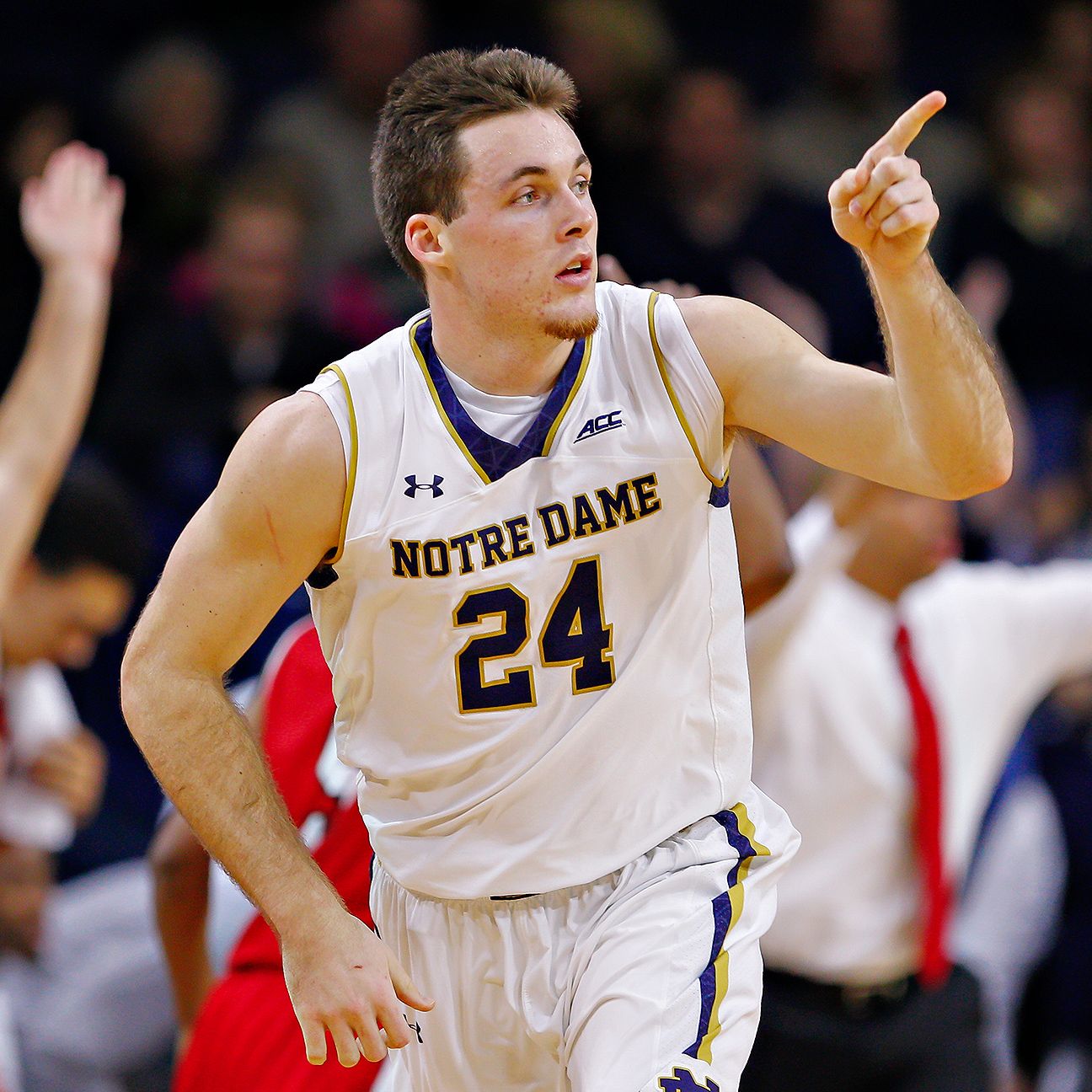 P.S.2: I can't bear to see Baskonia or Brose or any other team signing him this year or the next… I won't have it… Pat Connaughton (24-SG-1.96) is a players that has stars, arrow etc. in Hoopfellas' scouting database since his years in Notre Dame (he was one of Auguste's teammates). In 2015 I had him in the end of the second round of the draft, but the Nets picked him in No 41 and sent him to Portland. His first two years (which were guaranteed in terms of his contract) are now behind him and the G/F from Massachusetts did not manage to find playing minutes, and there are predictions that say that there is a great chance that the Blazers will opt out on him until 15 July. This year it seems possible to find a contract in another team, but his game seems to not help him play in the big league in the long-run.
Connaughton is a player who can do great things in Europe. He is a great shooter (an excellent spot shooter), who combines physical assets (6'9" wingspan, strong upper body), athleticism (strong lower body, great agility, as this is interpreted in European basketball), high IQ and a developed sense of the game. He is the type of shooter that can go over the defense and dunk (with lobs in the back line)…
… or put the ball on the floor and pass it well, playing a low mistake game in terms of shot selection and, in general, decisions. He is good both in the half court and in the open court. A multi-talented player, who has the ability to transform in terms of his roles (he played at the "4" position in the 1 in-4 out of the Fighting Irish), and cover three positions. I believe that this player is in the right status and he can do great things in Europe. Especially next to playmakers like Calathes or Spanoulis (and with the right spacing) that would give him the ball in his good spots. It is important that he can successfully defend in both lines. So, keep your eyes open for Connaughton. I have a feeling that we'll be talking against about him soon…
P.S.2: When it was announced that Strelnieks was joining the Reds, the two backcourt players I wanted for them were Higgins and Diebler. The first one (he renewed with CSKA), who would be getting the big contract in this year's offseason, he has a complete peripheral package (shooting, driving, defense, ability to play at the "1" position without the team's game lacking in quality-he plays all three backcourt positions), and the second one was the ideal wing "specialist" (in terms of execution) of 10-12 minutes that can boost the offense with his ability to make shots, especially from spot shooting. The Reds will now go to a PG, which is correct, as Higgins (whom Hoopfellas wanted) has assets that no other wing has in Europe (except, of course, Bogdanovic) at this level. Choosing a PG is now more compatible with the situation in the rest of the roster.
P.S.3: In the past Pascual has shown diverse thinking on how to build his frontline. We have seen Samuels-Lawal-Dorsey, but we have also seen Lampe-Tomic-Pleiss… Panathinaikos needs at least two quick mobile big men, not many big bodies. You did see how the balance of the finals changed when Gist upped his game and the Greens managed to be more aggressive on the defensive end… I think that the Greens are looking for depth. They will be meeting with Mitotoglou very soon…
Translated by: George-Orestis Zoumpos
Jim Katsionis