By Jim Katsionis on  2 October 2017
Ten days before the Euroleague starts, Hoopfellas honours its tradition and evaluates the recruiting of some of the league's teams. A first taste before the main course…
We can now wish ourselves and everyone a good season. A few days ago some of the greatest national leagues kicked off, whereas for some other teams the preseason is still underway. We are over the off season, so the timing seems ideal for a first evaluation of the moves of some of Euroleague's "gladiators". Last year's "deep" season and the new format, in conjunction with the improvement of the level of competitiveness and quality affected the recruiters of European basketball, who tried to adjust and create a full roster. I chose specific clubs to focus for now, as before the season kicks off, we will post our power rankings, where we will have a more general evaluation of the dynamic (which is a different part of the recruiting evaluation) of all the teams, as the season starts. The "recruiting evaluation" and, of course, the Eurolague Power Rankings is a tradition in Hoopfellas (and a novelty we brought to our country), as it triggers a discussion hat will stay with us the entire season. Let's go…
KHIMKI MOSCOW
The new situation coach Bartsokas has found himself in, gives him an inherent advantage: the chance to build the roster and its main core with his own "materials", as opposed to last year's Barcelona team, where he was given money to spend, but he also had to make use of player he found at Barcelona with fixed playing minutes in the team's rotation. This year, the coach brought 8 players to Moscow. These players will be (to a great extent) the hard core of this year's Khimki team, which was built by him. It's also important that Khimki has a good core of Russian players (Shved, Monya, Zubkov, Vyaltsev,  Zaytsev, Sokolov), which in terms of assets will be able to support what coach Bartsokas is building. Looking at the final outcome, his choices were very good and we can jokingly say that this year's Khimki is the most Hoopfellas-oriented team of the Euroleague.
The quartet of Thomas Robinson -Gill (Hoopfellas proposals for Olympiacos) –Ηοneycutt-Markovic is excellent and will give a tough and versatile character to the Moscovites on defense. The frontline is extra full (basically it might be "too full" and I hope this traffic does not backfire in the Euroleague, where player like Zubkov-Monya may be left behind in the rotation, although I believe that M. Thomas and Gill will have good internal competition in their positions) with the addition of a facilitator in the name of Malcolm Thomas next to a banger with a big body (Sokolov), and a flexible PnR centre (Todorovic), who can be the extra ace up the sleeve, after a very good season (let's not forget that he is the product of our beloved "Penya").  The Russians got Jenkins and James Anderson for their wings. I must say I was expecting something fresher, but it's absolutely understood that the coach invested in experienced players that can secure for him a productive flow, at times when he will not "love" Shved… The key-player in this structure in the way it has been build will be Markovic. He brings with him leadership, quarterback skills and a pass first character that changes the heart rate of this team. It's important for him to avoid injuries. Coach Bartsokas has Zytsev behind him (a long, athletic guard) and has left a gap on purpose, as he often plays Shved, and even Jenkins sometimes, at "1". We may see an addition there during the season, depending on the performance of the Russian role-players, which will set the limits of the real depth of the line. Generally, Khimki has a full roster, I repeat, and not only do they have several players, they also have a group of players that offers them a great variety of solutions and lineups (they can play Small or Big, without giving anything away in terms of quality), which means that they have a high degree of adjustability in various situations, something that is considered necessary in modern basketball. What remains to be seen is how the tempo that will be chosen as the basis of their philosophy will affect the productivity of this group of players in relation to their characteristics. Excellent work.
GRADE: A
BROSE BASKETS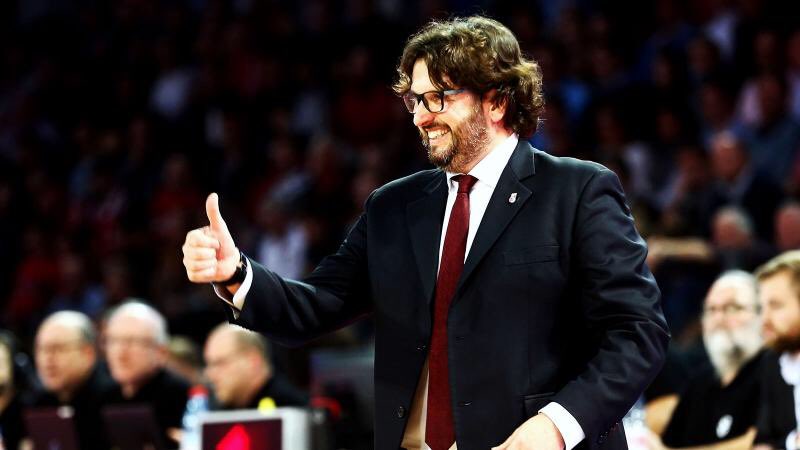 A total change of philosophy by Andrea Trinkieri, after Daniele Baiesi left the team. They turned to the American market again to fill in the places of the important players that left the team, and they are leaving behind their "European" character of last year's roster. What surprised us the most was the selection of players with different assets in relation to the players that last year presented us with the best fundamental offense in the league. This year's Brose is a more physical/athletic team (especially its backcourt), but they are lacking the ability for outside execution, an asset on which they relied their (ideally spaced) offense last year.
I am almost certain that the coach will change the way they execute through PnR action, setting different objectives regarding the nature of the final shot. Coach Trinkieri's offensive philosophy relies a lot on close outs and the movement of the opponents' defense, so this year we might see the Germans get in the paint more (Hickman-Hackett) and attack within this context. With Bryce Taylor at "3" (there is a gap there, as behind him there are two German SF with a common basis in their game) and Augustine Rubit sharing the "5" position with Radosevic, the Germans have to focus more on the open court. The key (traditionally in the game of the Italian coach) for this year will again be the "4" position, where Brose invested in two players that have a lot to prove, Mitrovic and Quincy Miller. The extent to which the American will respond, will significantly affect the image of the team, and this may have a negative or positive effect on his individual status. The Defensive Anchor named Daniel Theiss will be missed (they will probably have to look for a player in the frontcourt soon), as will the high IQ of last year. For some reason, I believe that the players that came to Bamberg this year will improve their individual status (almost everyone, excellent individuals with a motive), but I am not yet sure how they will function well together.
GRADE: B-
CSKA MOSCOW
I have great respect in the ability (apart from everything else) of coach Dimitris Itoudis as a recruiter. Without doubt, it is as good as his coaching ability, which puts him in the top of Europe. After CSKA returned to losing at semifinals last year, this year they are trying to go to battle with fresh, unaffected from bad karma players in main roles. Rodriguez was the best player to replace Teodosic, and the new go-to-guy in crucial moments. With him on the driver's seat, the coach ensures that the team's up tempo offense he brought to Moscow will continue at the highest level. Jackson's replacement, Leo Westerman is a player with different assets (it's a fact that CSKA will be worse on the defensive end), and the Russian team is called to develop the player. The French guard (it's a huge opportunity for him) is able to develop his chemistry with DeColo and help the Russian offense with his passive character, but I am still having second thoughts, not for his talent, but for how he will be able to respond in his first season. With Clybern (he will support Small Ball situations with his physical/athletic package and play everywhere) next to Higgins (plus DeColo), CSKA have some of the best finishers in Europe both in traffic and in the open court, and they are probably the strongest team in the league in terms of 1 on 1. Hunter is an upgrade compared to Augustine, given his ability on defense, but I get the feeling that the Russians may need the safety net of a bigger body on the bench. Maybe Khryapa will play most of his minutes at "5".
GRADE: B
OLYMPIACOS
Going in the Off Season, I had the feeling that Olympiacos will have very specific targets and priorities, aiming at improving parts of their game (we have talked about them in the beginning of last season) that "hurt" them last year. Playmaking/alternative source of creation (except Spanoulis) in their effort to have a more versatile offense, depth, in order to decompress some of their players (Printezis), vertical game/better ability for the team to get in the paint in the final stretch of offense for executing or creating. The loss of Birch required his replacement by a good rim protector in order for the Reds to be able to keep their high standards in the main categories of the nature of their game that have been the main components of their philosophy.  Their total investment in the market money-wise was more than good. Almost every player that signed with them is excellent. Just excellent. However, it is highly doubtful whether they will be able to perform within this environment and give Olympiacos a more versatile character in both ends of the court.
Coach Sfairopoulos insisted on adding backcourt firepower and having a complete roster with quality shooters, but this led to them not having a slasher or an 1 on 1 player that can create good shots for the rest of them. Roberts-Strelnieks (two players that I really like as units) bring quality, but they are two guards with similar assets (the Latvian will have to step up on defense). Maybe after the choice of Thompson at "3" (we had said that since you are investing in the "Pap" duo, a special-role player would have been a good fit there, who wouldn't ask for many playing minutes) the Reds should have looked for a different type of guard, minimizing the risk of being too guard-oriented on offense when Spanoulis is on the bench. Tillie is a great tool and McLean has offensive skills that didn't exist in the "5" position last year, but will Milutinov (who has worked on his footwork, as we said last year, he will be the main pillar of the new team's offense, I can safely say that he will be one of the best Centres in the Euroleague) efficiently defend above the rim? It is clear (as it was last year) that the members of the team declare their will for the team to run more and look for the open court, but do they have really good finishers and creators in fast break? Olympiacos have more sting (and personality) this year, but it will be interesting to see through what process the coach will be able to activate these peripheral "arrows" (when Spanoulis is on the bench, with him on the court it's certain that they will roll). Will Olympiacos be able to show us the same hard-nosed defense (which has been their constant for several years) with its current form in the backcourt and frontcourt? These are questions that must be answered. The whole endeavour is expected with great interest…
GRADE: B
ANADOLU EFES
Let's move on to the –always special- proposal of coach Perasovic. First of all I would like to say that I would really like to see players such as Motum or Simon (or Causeur, who signed with Real Madrid) playing for the Greek teams, but this is the context of coach Perasovic's basketball (Dynamic basketball as the main philosophy from which every action is derived). The Croatian coach is back to iso guards, signing Errick McCollum (without doubt an elite scorer) and Josh Adams (we had talked about him) looking for the package of the next Mike James. Stimac-Muric are good players, but the latter will be called to play a bigger (than the one he is ready for) role, playing for a coach that had players such as Hanga and Honeycutt in his position… Batuk is adding outside shooting (although there might be traffic with Simon, even though the way the Croatian plays with the ball may suggest lineups with two G/F on the wings). Ledo is a talented swingman and he may have good numbers within this context (and draw some attention) but he is not very efficient when it comes to deciding under pressure. There is no PnR-guard (I can see Simon running PnR actions) to work with Dunston on a regular basis. Anadolu is screaming 1 on 1. They will mostly rely on transition, but it is doubtful whether they can be efficient (and make few mistakes when they are asked to cooperate, which is important in this type of basketball) in set actions, where they look like they can be easily read.
GRADE: Β-
FENERBAHCE
The champions must defend their title after last year's triumphant season, which will not be easy. The duo of Obradovic-Gherardini had to work really hard this offseason, as their team lost two of the most significant pillars when Bogdanovic and Udoh left for the NBA. Let's not forget that not only were these two players among the elite in terms of  Euroleague basketball, they were also two players that had delved deep into Zoc's philosophy, which is very important. So, their replacement in the Fener structure requires time, not just signing two equally great players instead of them. With the much respected Gherardini on their side, the Turks managed to sign Nicolo Melli (probably the most versatile PF around…) and invested fot their frontcourt in a talented and proven American player that played his entire career in the Kings, Jason Thompson. The common ground of these choices was their ability to pass the ball (remember how significant Udoh was as a playmaker from the free throw line or the low post), aiming at Fener being able to keep similar standards in their half court offense. Apart from being a quality Turkish player, the presence of  Guler in the team as a facilitator will give depth to the team, as Dixon will become 34 this season and Sloukas will be called to step up (good timing with the leadership he showed in the Eurobasket, which followed his successful season last year with everything he gave to his team), an internal change that will bring a fresh breeze to the Turkish team. This will be Guduric's first year with coach Obradovic (it will be hard for the Serbian wing) and everyone is expecting to see how he will improve his thinking, decision-making and behaviour with the ball in his hands. Wannamaker was just necessary to complete the puzzle, as he is one of the overall best players in Europe today with his vertical game and his impressive 1 on 1 ability that creates chances for his teammates. There is, I think, an intentional gap in the "4" position (Zoc will probably have a short rotation in his frontline, relying on the trio of Melli-Vessly-Thompson) in order to use the depth at "3" (Datome, Nunnaly as a defensive stopper, Kalinic) with coach Obradovic playing Kalinic in a PF role (we saw that it was successful last year) allowing for a "window" at "5" for Duverioglou. Fenerbahce did the best they could do…
GRADE: A
PANATHINAIKOS
Panathinaikos moved in very specific financial standards in this year's market, aiming at depth and good fits that would be within coach Pascual's philosophy. The "Greens" will try to change their philosophy on offense and rely more on terms such as motion, ball movement, and detailed spacing, as opposed to last year, where they relied more on 1 on 1. Their thinking is quite good, but it will not be easy and it requires patience. The "Clover" lost in personality (James, Bouroussis), but in the long term they can cover this lack of personality with proper decoding of their new objectives through cooperation. It is clear that in this roster shooting firepower has piled up, as at "2" "3" and "4" there are shooters such as Denmon, Rivers, Lojeski and Singleton (provided that he continues to consistently open up defenses from "4").
Panathinaikos' whole game this year (apart from the quality of work of their coach, who will be the barometer in this effort, as we stressed immediately after the end of last season) will be decided by the players that come from behind. These players will be called (regardless of the importance of the role they will be given) to support this structure. It's more than obvious that Panathinaikos will need one of the two "5" that are behind Gist (Auguste, Vougioukas) to step up. It's also obvious that Lucas Lekavicius' performance in the year of his transition to the next level in a very significant role, will play a major role in the performance of the team. Will James Gist (I was expecting something more fresh, more "hungry" here) be able to stay injury-free and keep the balance of roles in the rotation? Panathinaikos has defensive versatility with Antetokounmpo and Gabriel behind the main lineup, and Matt Lojeski may gradually become a point of reference in the Weak Side and generally in Close Out offense. In general, the Greens made less fancy moves than their "eternal" opponents, who signed players with bigger individual status, but the Greens' selection of players shows a specific direction and they will be able to work well within the specific context coach Pascual has in mind.
GRADE: B+
BARCELONA
Barcelone moved in the market aiming to sign players that are able to support Sito Alonso's fast game, as the Catalans want to revive the fast pace of the past in the era of their new coach. Their team will be fast this year, emphasising on speed of deployment and execution, but they will need to work. There is lots of talent and depth. The forward line is more than full (Hanga-the only swingman-Sanders, Klaver, Moerman and, of course, Vezenkov, the young player will be even more important this year, despite the internal competition) and gives the coach a wide variety of choices, but the entire nature of the roster, as it has shaped up, gives the impression that the Catalans may have bet more than they should in bringing together offensive skills, without placing defensive pillars among it. For example, the duo of Heurtel-Pressey at "1" may hide the ball in the open court, offering superb playmaking skills (very good in PnR actions), but with Kopponen-Ribas still recovering from injuries, it's unclear how they will be able to give defensive stops (Hanga, get ready!). At "5" Seraphin brings scoring and a great physical package, but (especially with Tomic as his partner) they lack in great defensive instincts (even though they can defend up high). So, we may see Small Ball, based on the versatility of the forward line. It will also be interesting to see how well this team can shoot the ball, and mainly how they will "distribute" the possessions on offense, as they have several players that get in the game through their execution. Barcelona has the background to offer a great spectacle, but there are question about how fast they will find the necessary balance in their game to take advantage of all their players.
GRADE: B
MACCABI TEL AVIV
Total rebuilding in Tel Aviv with Maccabi creating an entirely new team on a different basis and a different direction. Neven Spahija brings the culture of Pace & Space offense, which he adopted in Atlanta next to coach Budenholzer. The Croatian coach (coming from the U.S., but from an organisation with deep European influence and a game style deriving from the Spurs tank) made deep changes in the team and changed everything, which is exactly what MTL needed in my opinion. The veteral Israeli players (Pnini, Mekel, Ohayon, Landesberg) left the team as part of the problem, and Spahija only kept Segev and brought Di Bartolomeo and Mashour (they both had excellents season last year), Cohen (he returns to Maccabi) to "fill" the frontcourt, and he also brought Yovel Zoosman (a SF born in 1998, whom the Croatian coach plays a lot, a young player who can shoot the ball, as we saw in the U20 championship in Crete). This young core of Israeli players is great news and also a significant parameter regarding how these young players will respond in main or secondary (but equally significant) or supporting roles, as the roster has been structured in such a manner as to leave certain gaps with these player in mind. The recruiting of the main core was Spahija-oriented, i.e. with players that can support his game. Guards that can both shoot and create (Pierre Jackson-Michael Roll), a Spurs draftee in the forwards (DeShaun Thomas), a very strong body with a specific physical/athletic package that can play the role of defensive stopper on the wings (Deandre Kane), plus the quick feet of Tyus next to the size of Parakhouski. The cherry on top was the twice NBA champion, Norris Cole, who brings the necessary star quality in the backcourt (although Jackson seems more in line with this type of basketball). One of the most intriguing moves was signing the Australian player, Jonah Bolden, who will start at "4" and his development (great potential, as we've mentioned before, although he needs time to adapt his game to this level, that's why he might be a bit late in performing well) being a bet for the organisation. Maccabi is more fresh, more modern, more rationally built for modern standards of European basketball. They are certainly a better "team" (in the sense that regardless of the result, this year they have a specific direction) than last year's mess. The key to their game will be their defensive behaviour. For starters, there are certain questions in regard to whether coach Spahija will be able to get this group of players on the same page on defense. However, in total, based on the philosophy this roster was built, the work done in the Off Season was good.
GRADE: B+
P.S.: Milos it taking a big step at a mature age, with all the advantages and disadvantages of such a decision. He showed what he can do yesterday…
P.S.1: On behalf of the Hoopfellas community, I offer the most sincere and warmest condolences to the Antetokounmpo family. May he rest in peace…
Translated by: George-Orestis Zoumpos