By  Jim Katsionis on 16 June 2017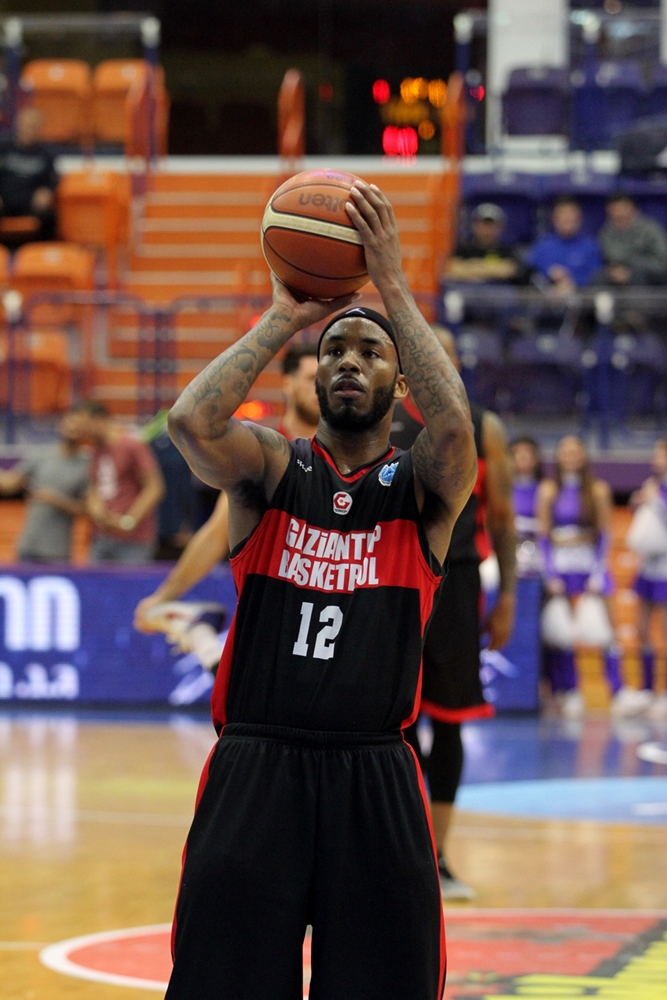 Marcus Denmon: from the so-called "40 minutes of hell"of Missouri to Europe and now Panathinaikos. Raised in the M2M Pack Line defense of Xavier and the defensive minded nature of Alba Berlin, Jamel McLean leaves Milan for Piraeus. To what extent are these the right additions for the two "eternals"? Hoopfellas sheds light on the new players of the Greek teams and assesses their potential at their new teams…
The forgotten concept of versatility in Olympiacos' frontline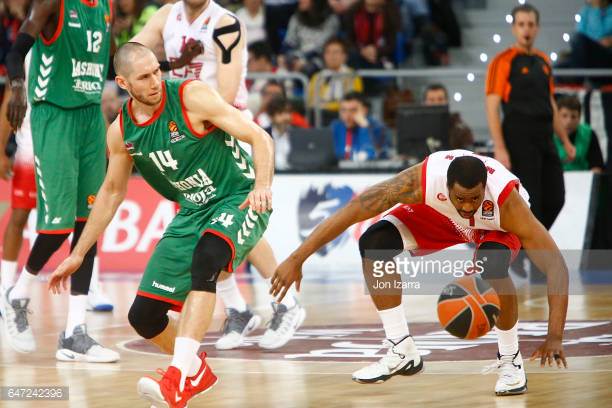 One of the main things Hoopfellas has pointed out in regard to the Olympiacos' frontline roster in the past (quite a few) years is the constant lack of big men who can play in both frontline positions, thus giving their frontcourt a more versatile form and allowing for a variety of lineups. Since the years of coach Giorgos Bartsokas, the Reds filled their "5" position with three players that would only cover that position, without being able to play at the "4" position. Dunston (remember coach-B putting him next to Sermantini when he was left with no big men), Simmons, Hunter, Begic, Milutinov, Young, Birch… Even Petway, a PF, could only cover the "4" position, as he lacked the size to play in the centre of the key, with Giannis Sfairopoulos forced to play with Printezis as the C and use his Big-SF at the "4" position. For the first time (finally…) after many years, Olympiacos signed two players in the offseason (Tillie, McLean) who can play both positions. Since we started Hoopfellas, we have pointed out how important it is in the modern, high paced basketball to have players in your roster that can cover two or more positions, as they make the team look deeper than it really is and give it a higher degree of adjustability in special situations… With McLean and Tillie Olympiacos can now play "play" with his size and change his skin each time, using quicker or bigger lineups that will rely on this versatile nature of their roster this year.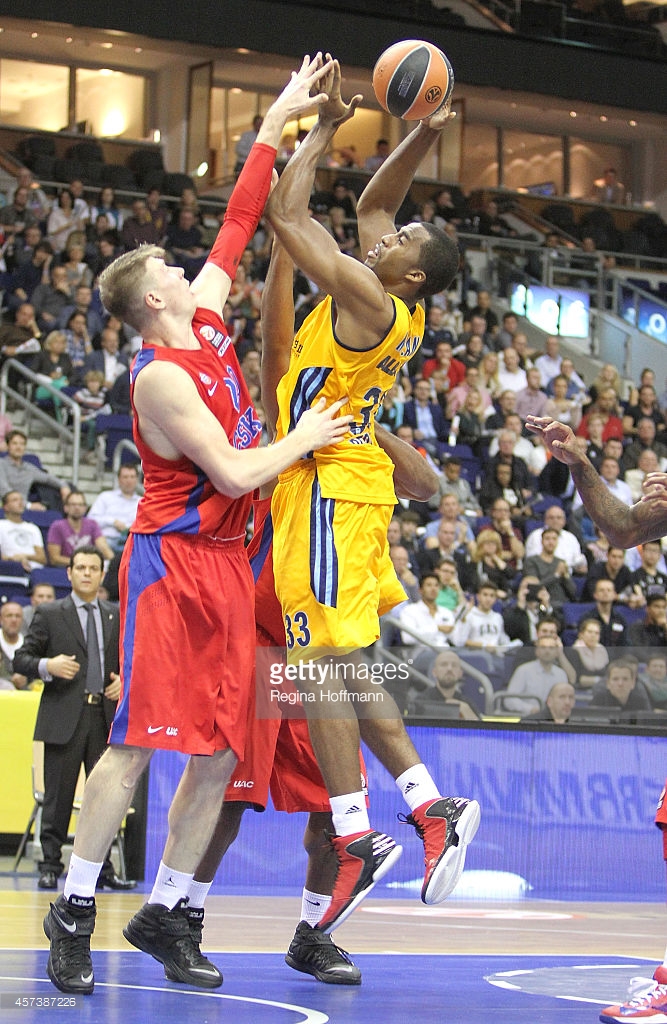 Jamel McLean (2.03-F/C-1988) is a typical case of a late bloomer. He had his breakthrough season at the age of 26. A player from Xavier, he had his good years under the (former assistant of Sean Miller) Chris Mack, playing in a defensive minded environment and digging deep in the (well-known to our community) Pack Line Man to Man Defense. He shone in a similar environment in Berlin, where Sasa Obradovic managed to showcase his strong points, and he later probably "wronged" himself going to Milan and a team with an entirely different direction.
PTS Per Position: 1.57
Offensive Rating: 123.3
Defensive Rating: 111.1
Offensive Rebound %: 9.82
eFG%: 61.9
AST/TO Ratio: 0.90
Avg. Pick & Roll PTS: 2.6
EA7 PTS with McLean on the floor: 1263 (in 1311 possessions)
EA7 PTS without McLean on the floor: 1159 (in 1264 possessions)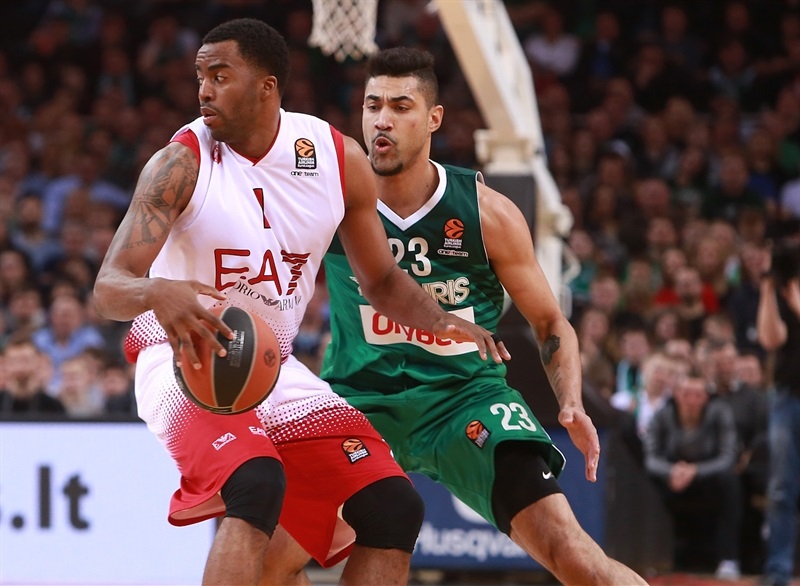 -His low centre of gravity, garnished with very good positioning is the main advantage of the 29-year-old F/C from New York. He will need space to showcase his offensive game. McLean is far from being considered complete. His power and good positioning close to the basket in conjunction with his ability to score through contact allow him to score points. He is not the straight Post Up big man, even though he is productive in these situations compared to typical mobile-PnR players of a similar nature. He doesn't have automated moves when playing close to the basket, he will not shoot over his defender when he is a big man of the same size. He has his own underground (as we call it in basketball slang) style winning the positioning battle with drop steps, use of his elbows, up & under moves or fakes. He wins the battle of time on the ground… His usual move requires outside dribbling, putting the ball on the floor in side iso and finishin down the lane (if the conditions allow him) or (mainly) from the other side of the basket. He is not very reliable in executing from 4-5 metres, but he has managed to make defenses respect him and allow the space he needs to "pull" his defender a bit outside the paint. In these conditions, McLean has capitalized on an advantage they know well at Piraeus (since the Hines era). He is quick (for a player of his size) in small spaces. He can put the ball on the floor and attack. One of Olympiacos' safe plays from the Ivkovic era in the final seconds of a close game (he used it a lot in the 4th quarter) was the short drives of super-Kyle, starting from the free throw line. Coach Repesa sought these situations last year through 1-3-1 offense for the American. Of course, McNeal doesn't have the Hines' footing or the second jumps, and he sometimes dribbles more than needed, which costs him in terms of turnovers. This is why I focused on the word "space" on the top of the paragraph…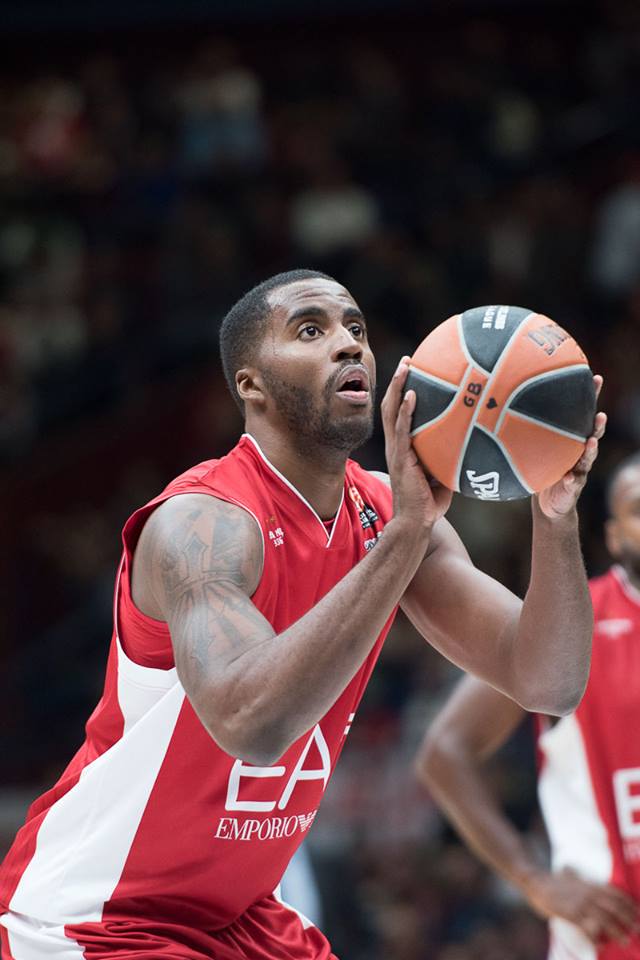 Compared to Birch, McLean is more self-sufficient offensively. Apart from the fact that he runs the main lane well (the Canadian player could do that as well), he could play well with the ball in his hands and he doesn't have to wait for the backcourt players to create for him. So, he can bring a kind of game that the Reds lacked last year. Just remember how weak Birch looked on offense when Spanoulis wasn't with him on the floor. McLean is also quite productive in PnR situations (without being the fundamental PnR big man) taking advantage of his quick movement (without the ball this time) in small spaces and his strong spot jump in conjunction with the aggressiveness he shows when he is in his deadly zone, as well as his last step before he attacks the rim. This is why the presence of a second creator with playmaking skills is important for Olympiacos this year. Spanoulis' vertical passes will be beneficial for him and they will be properly utilised. He must also work on his shot selection, weighing a bit better the iso situations, where he can't put the ball on the floor from the wing (his turnaround jumper is good, but it's not always executed under the appropriate conditions). A reliable free throw shooter, an important asset-as we have pointed out again and again in the past- for a frontcourt player.
Concerns about McLean's fit in the defensive behaviour of the Reds.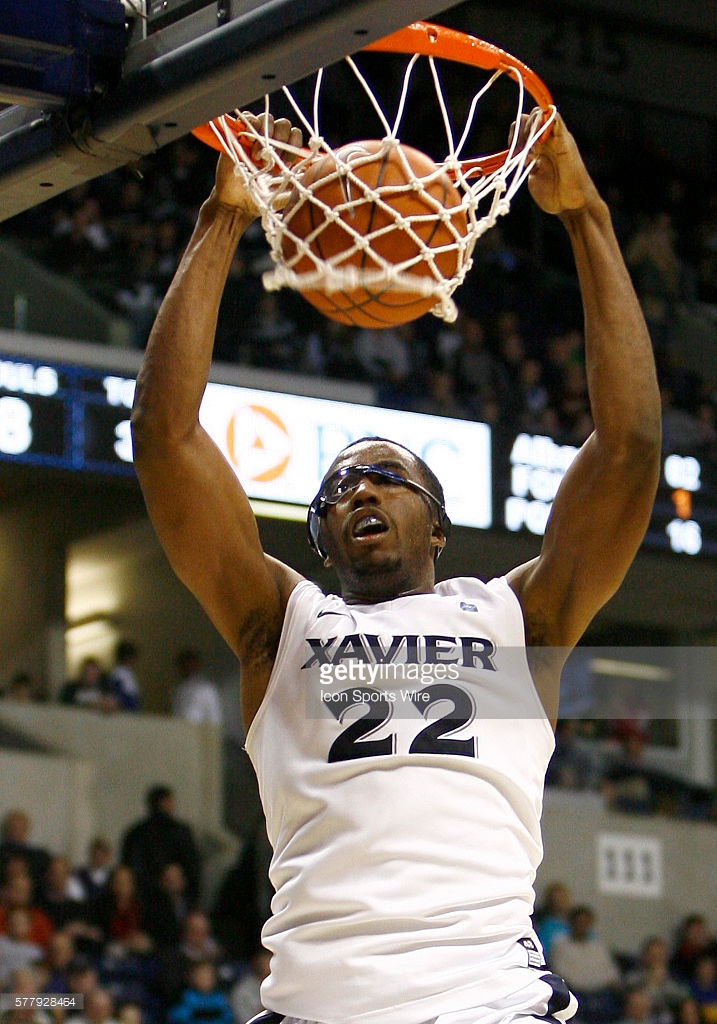 In Bonn, under Michael Koch, McLean was used more at the "5" position, which, as he himself has stated, helped him improve his game him game in Europe, and be more self confident with his performance against quality opponents in the Eurocup. Of course, things are different in Euroleague. McLean is strong, he has good hands, and his physical profile is the trademark of his activity on the floor, but he is lacking certain fundamental pieces, on which the defensive direction of the Reds has been built in the past few years. These pieces are directly linked to a pair of quick feet at the "5" position. The former EA7 player does not have superb athleticism (he is above average, but not elite), he doesn't have the quick limbs, nor the size to defend in the centre of the key, covering with his presence the "mistakes" of his teammates and be decisive in the final attempt. I remember his difficulty in keeping, for example, Young away from the basket in post up defense (on the contrary, with big men of his size he is quite efficient). With Sanders-Pascolo-Macvan playing next to him, Milan conceded several lay ups, deriving from their poor defense in total, and he showed an inherent weakness in defensive rebounds. At the same time he doesn't have great agility to defend against quick guards on Switch defenses that will make him go the arc and keep his position there. This is where, without being slow, he is considered average, especially when compared to the standards of the big men we were used to in Piraeus in the last years. I should remind you that starting from Birch's great performance in this area the Reds "locked" their middle lane and their paint last year, winning (with the Canadian's excellent defense on both lines) close games and having the best defense in the League. This won't happen with McLean… The Reds' best rim protector at the moment is Milutinov…
All in all, I am sceptical about the efficiency of the Reds' Post Up defense for the new season, which was the best defense of last year's Euroleague, although this is a team that relies on fundamentals in this area (team defense) and is always on high standards. However their main advantage regarding the team's physicality is that Olympiacos has size at the "3" position (with the two "Paps") and "4" (Tillie) to match McLean's "low" game, and I think that this was one of the criteria that led coach Sfairopoulos to this choice. On the other hand, the New Yorker forward defensively matches much better with PFs, whom he can follow everywhere on the court. For example, it's a fact that (together with Tille) Sfairopoulos will play him at the "4" position in cases he wants to be more physical against player like Singleton.
They can play better basketball at Piraeus, I was expecting a something different, though…
The choice of James McLean was not what I expected. However, I can understand what coach Sfairopoulos was thinking. McLean is a very good fit with a big/defensive-minded PF like Tillie, and brings versatility and another kind of offense (one on one plays from 4.5 metres inwards) that Olympiacos was missing last year and gives them a more unpredictable character in terms of scoring. This doesn't mean that I completely agree. McLean is a good player, but he is not 26 anymore (in terms of his potential)… He is a good team player, he is known for his militant/fighting spirit and he has the necessary physicality to be integrated into the Reds profile. He will play better at Piraeus. The environment is much better for him as he comes to a team with winning mentality and principles… However, I was expecting a different choice from the Reds in regard to their securing their defense in the centre of the paint and the choices on defense this choice could have brought (as this is a team that starts its game from there). There were players like these in the market. I think that coach Sfairopoulos was too afraid to take the risk, showing insecurity in how players without experience at the highest European level would do in conjunction with their placement on Olympiacos' environment. However, the Reds have the know-how of to build defensive "machines", but in this season, they may have to change the way they express themselves, choosing another way to get there again. We are looking forward to the seeing how this will work out for them…
Marcus Denmon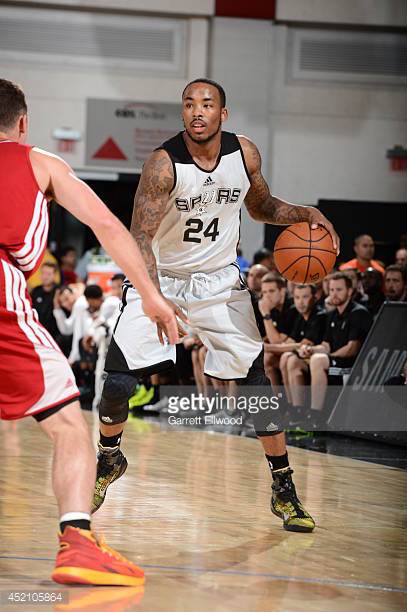 Denmon came from the production process of Missouri (he grew up there), when coach Mike Anderson presented us with one of the most fun to watch styles of basketball, called "40 minutes of hell", due to its nature, which needed up tempo basketball, fast-paced offense with quick execution and a strong tendency for transition and spread defenses on the entire court, aiming at pressuring their opponent, which could lead to fast pace, i.e. exactly the environment the Tigers had been trained to play and execute. After playing in some of the top European leagues, Denmon is before the great challenge of Panathinaikos and the Euroleague, which he was waiting for quite some time now. However, this is the Panathinaikos of Xavi Pascual, the master of the half court…. It will certainly be very interesting. Let's take a look at our notes…
AST/TO Ratiο: 1.84 (2.27 in the Europe Cup)
USG%: 22.51
eFG%: 54.6
TS%: 58.7
PPS: 1.32 
FT/FGA: 0.27
High Efficient Scorer = A good basis for what Panathinaikos wants to play n offense.
– Marcus Denmon (1.88-G-1990) stands out among a huge tank of shooting scorers of this financial status for the efficiency of his choices on the offensive end, and in particular, execution. In his career so far, he bears the golden label "scorer with good numbers". His shot selection is great. He is always under control, and he recognises immediately the good execution condition, which leads to a low mistake behaviour, a very attractive asset for the basketball of coach Pascual.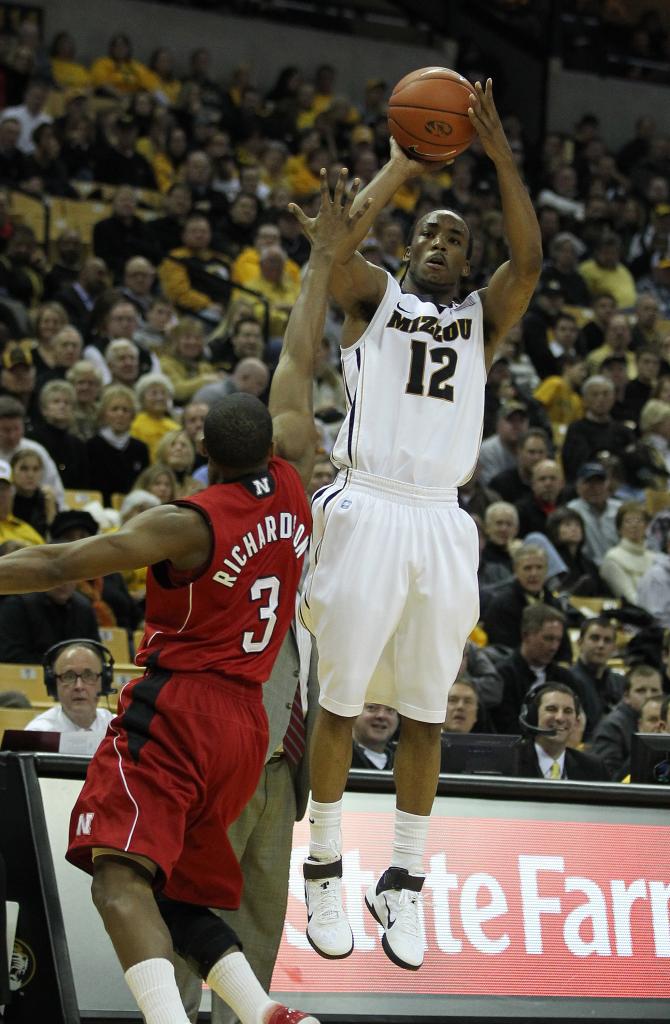 Of course, what we are all expecting to see is how the Greens will integrate in their offensive arsenal the outside execution of Marcus Denmon, which is the main firepower of the player. He is an excellent shooter, which, combined with his ability to choose the right shots, impressed coach Popovic, who picked him for the 2002 draft, when Denmon was leaving Missouri. This is the organisation that developed the Greens/Gary Neals of this world, the one that picked the Spartan Bryn Forbes etc. His execution mechanics are perfect. He arms properly (his arm positioning is correct, the well-known three fingers between the palm and the ball, as is taught by the Yugoslavians and the school programs that produce shooter in the USA), ideal lifting and follow through (also note the "elbow above the eye level" rule he follows religiously in the continuity process of his shots, which shows good education). His choice leads us to expect that this year the Catalan coach will change the direction of his offense, and present us with more movement away from the ball, and work for his shooters, based on the proper movement of the ball, starting from perfect spacing. Denmon can function well in this environment, as he is a guard with great confidence in his shooting, who can be constant in scoring from behind the arc, putting the pressure on defenses and increasing the available spaces for his team's offense.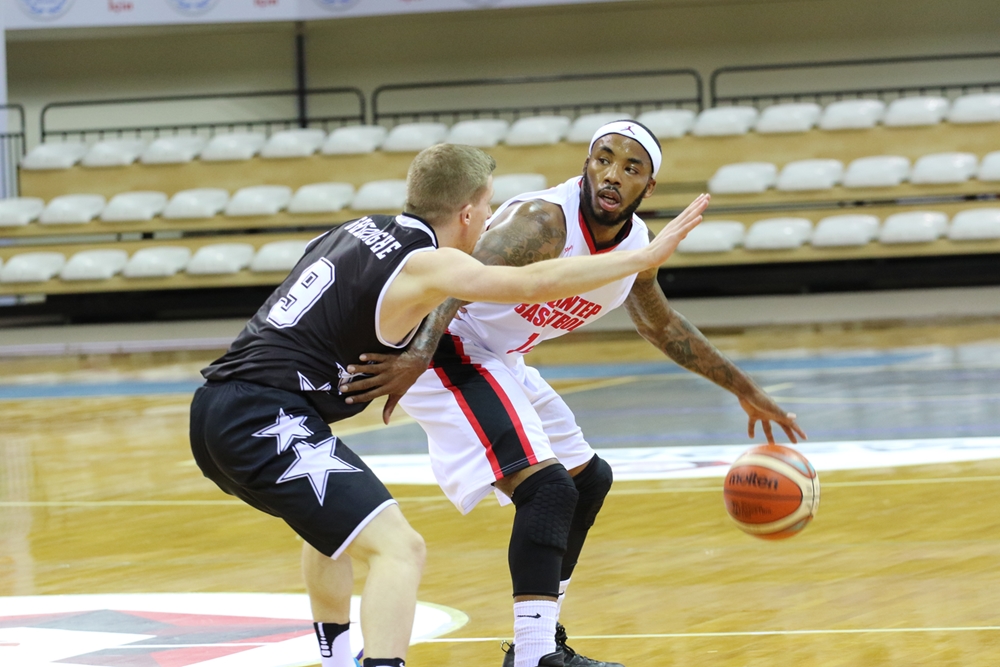 -Denmon will be a very good choice for Panathinaikos' weak side offense, as he is the kind of guard that can be efficient without having the ball in his hands. He is a controlled player, which is a great asset for someone who waits in the weak side, aiming at producing from there. He knows how to handle himself in close out offense, and his ability to pass the ball (mainly late, after he puts the ball on the floor and goes inside) is an important weapon (in Gaziantep's post up offense for Balazic, he put much pressure on defenses). He also is a very efficient spot shooter, which is interpreted in an excellent manner in the Greens' backcourt, next to players such as Calathes and Lecavicius.
Note: He is a player that can shoot after dribble quite effectively, and he has the following peculiarity in this situation. He shoots very well after spot dribble, but he is not as effective after speed dribble. The deep squat (before executing) he uses after a mini reverse will remind you of Ramel Curry (and in general his behaviour in set conditions I dare say)…
I will agree with coach Deddas in his assessment that "Denmon is an upgrade compared to Feldeine", even though the Dominical player had assets that opened up a good prospect at the highest level (bigger, longer, better on team defense). It's not an exaggeration to say that Feldeine played his money's worth at OAKA (a not so expensive contract), but he didn't have the required character that could have given him this extra push. Denmon has assets that justify the optimism for "upgrade". He is a player with far better intangibles, a very important asset for this level of European basketball, especially for a player that come to play for our teams. We will take his chances in a close game, he will "shoot the ball and go to sleep on the way every night", as Pat Riley eloquently says about the mentality of a great shooter in the US. The second main difference has to do with the way the two players approach contact when they attack. Feldeine avoided it (it was almost impossible for him to score through contact), whereas Denmon is not afraid of it, and he is able to score though such situations.
Important note: Even coaches who had certain players in their teams may not assess them properly (of course they only have 10 lines in an interview for a mini report, and are not allowed to make an in-depth analysis). For example, it had been said that Dominic Waters would have given great help as a creator to Olympiacos last year, but Hoopfellas had focused on the player's weakness, interpreting his game in the demanding EL environment.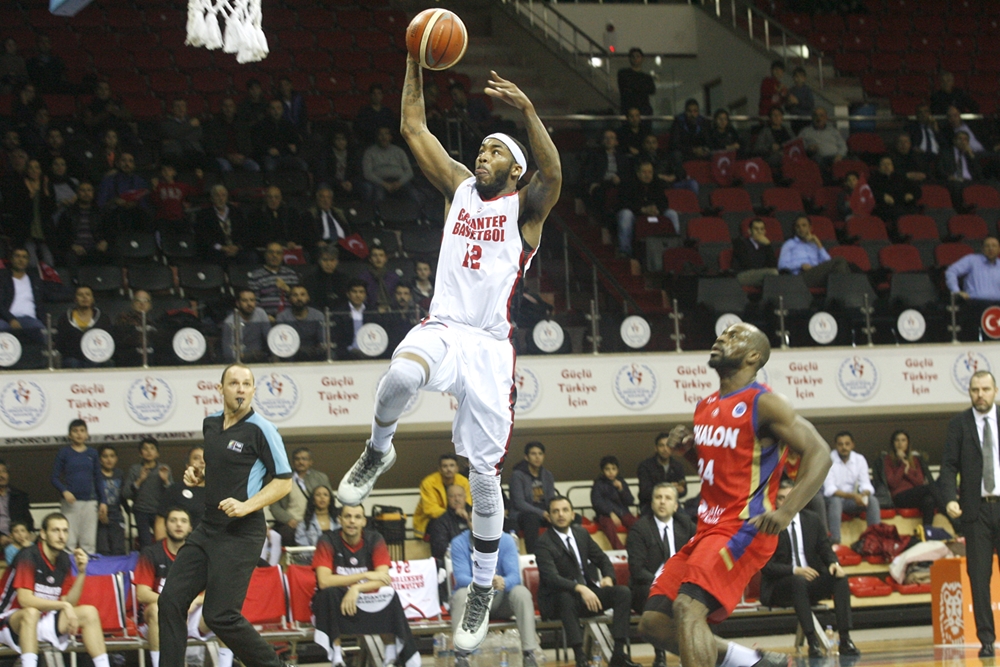 So, Denmon has references of a good 1 on 1 corer, but the most important variable in this equation is the level of defense, as this year in the Euroleague the Spurs draftee will be up against the hardest to break defenses he has ever faced in his career. My opinion is that the new Panathinaikos guard will find it difficult to score inside the paint in one on one frequently. Most 1 on 1 situations will finish with execution from the perimeter (where you will be able to enjoy execution after a side step). Yes, he is not afraid of contact and he has shown that he can finish in the paint. However, he is not the slasher that guarantees the creation of a breach.
His ballhandling is not of the level that allows him to make his defender loose his balance with a series of dribbles, and his athletic package is not one of an explosive guard. In the Italian league (of the lighter big men) with the Brindidi shirt, he had more chances to score from the paint, but these chances became fewer in Turkey, where the level was higher and the approach was different. This condition directly affects his visits to the free throw line (a great shooter from the charity stripe). Last year in the TBL he shot 101 free throws in 31 games (3.25 average).
The ratio (as you saw above) of free throw shots compared to the rest of his shots is 0.27. How will this be affected in the next level…? It's logical to assume that it will be fairly affected. However, this is where the type of offense Xavi Pacual will choose to play in the new season comes into play. Basketball is a complex sport. This is why we are allowed to have Hoopfellas.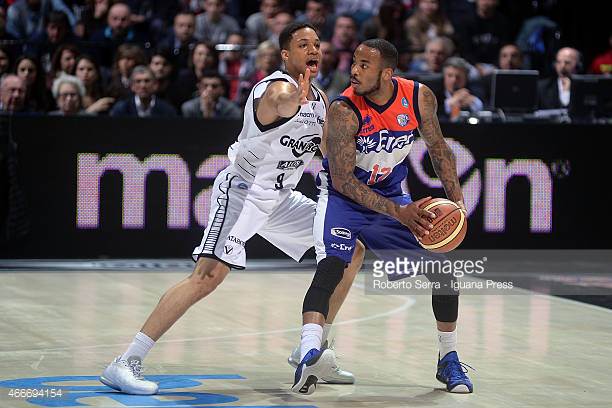 -What cost Denmon a real chance in the big American league was his weakness to run the offensive playbook as the main ballhandler from the "1" position. He is a good passer (not just when he attacks "pulling" the defense on him, but also in static offense executing introductory passes to the paint quite safely), he never developed playmaking skills in order to be able orchestrate the offense and get his teammates involved in it. He is clearly an off guard and, let's not kid ourselves, this is the kind of player the Greens coach wanted at his moment. He is not known for his advanced ballhandling and he a shoot-first player, but he has a high degree of perception, which is reflected in the way he handles himself against defenses that are adjusted to him, where he remains aggressive, without making risky plays. This is a good basis for his transition to the very demanding EL level. It does not guarantee success, but it's a good start.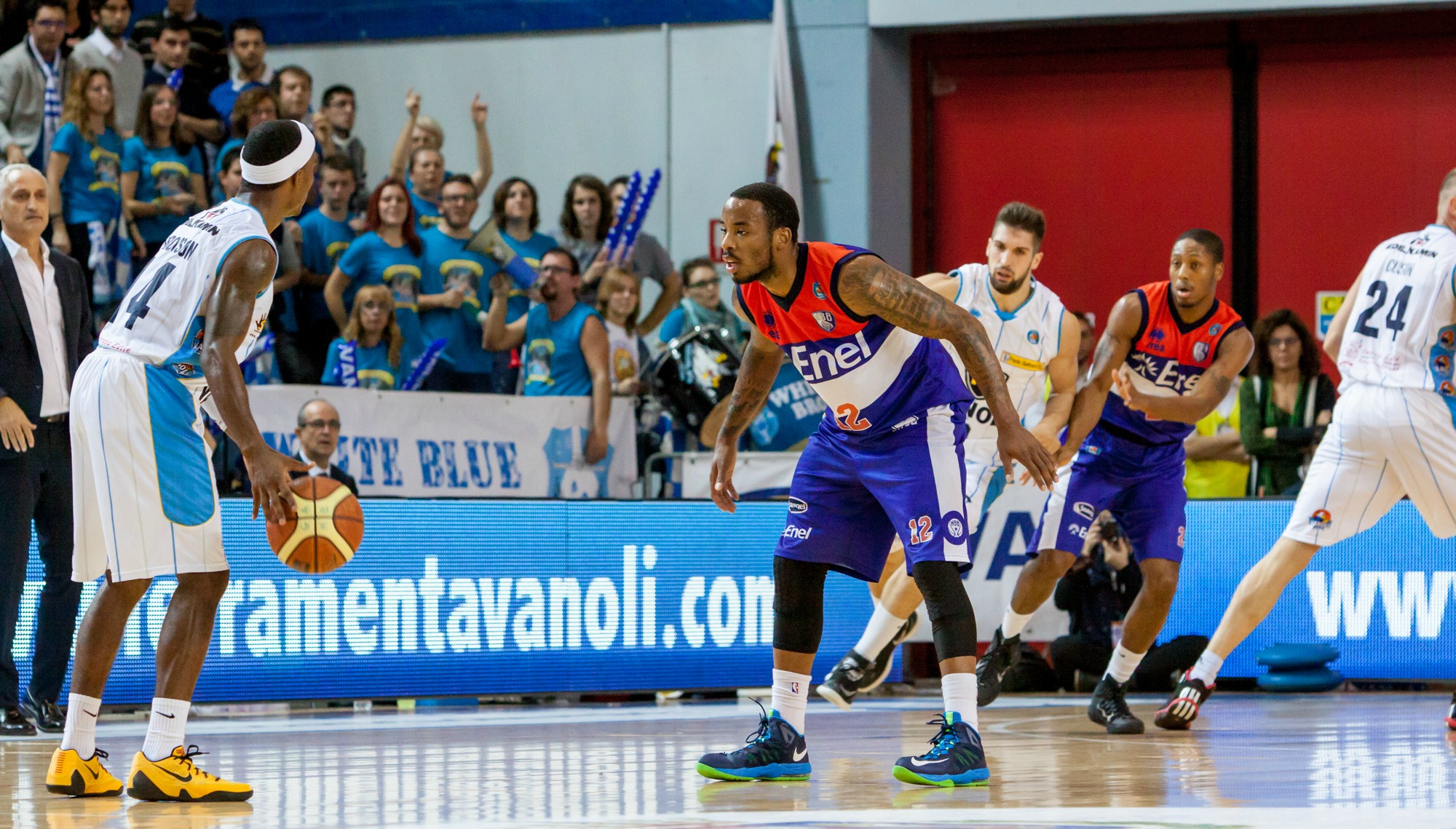 -The defensive part will be an important test and evaluation criterion for his playing minutes and in general for Denmon's propect within a team that plays at the top level of Euroleague. Whereas the 27year old guard was part of the Missouri program, with the prediction of an above average defender, due to the way he used his quick hands and in general his behaviour defending on the ball, he never worked on this aspect of his game, playing in offense-oriented leagues, and in teams that never pressured him to make the extra effort on the defensive end. He will need to work on this, as for the first time he will be pressured to improve his performance and reach certain standards that are required for the Euroleague and the Panathinaikos level. Starting from his effort… Denmon has been in the Hoopfellas database for years now, and our constant updates in terms of notes include the word "preservation".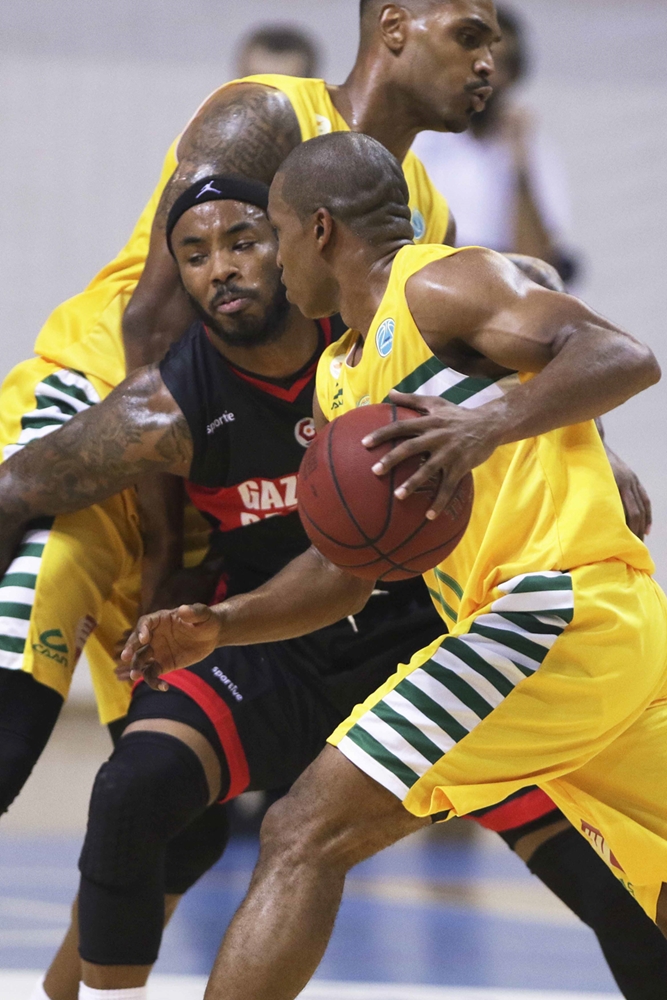 Being the main offensive choice on offense each time, and he was obligated to manage his fatigue and his opponent's pressure, he was caught several times "preserving" himself on defense, defending away from the ball, which resulted in him conceding aggressive cuts of the player he was guarding (failure to act on time, improper body positioning) leaving an impression of looseness. Denmon is indeed a more efficient defender on the ball that away from it. Xavi Pascual will be the first coach that will undertake to pressure him and make him improve his concentration level and his total effort in this area. He is able to respond mentally, but it is of crucial importance how this change of habit will be interpreted in relation to his presence on the offensive end against defenses of the highest European level. Another advantage is that he is a good (defensive) rebounder for his physical/athletic package.
Summing up…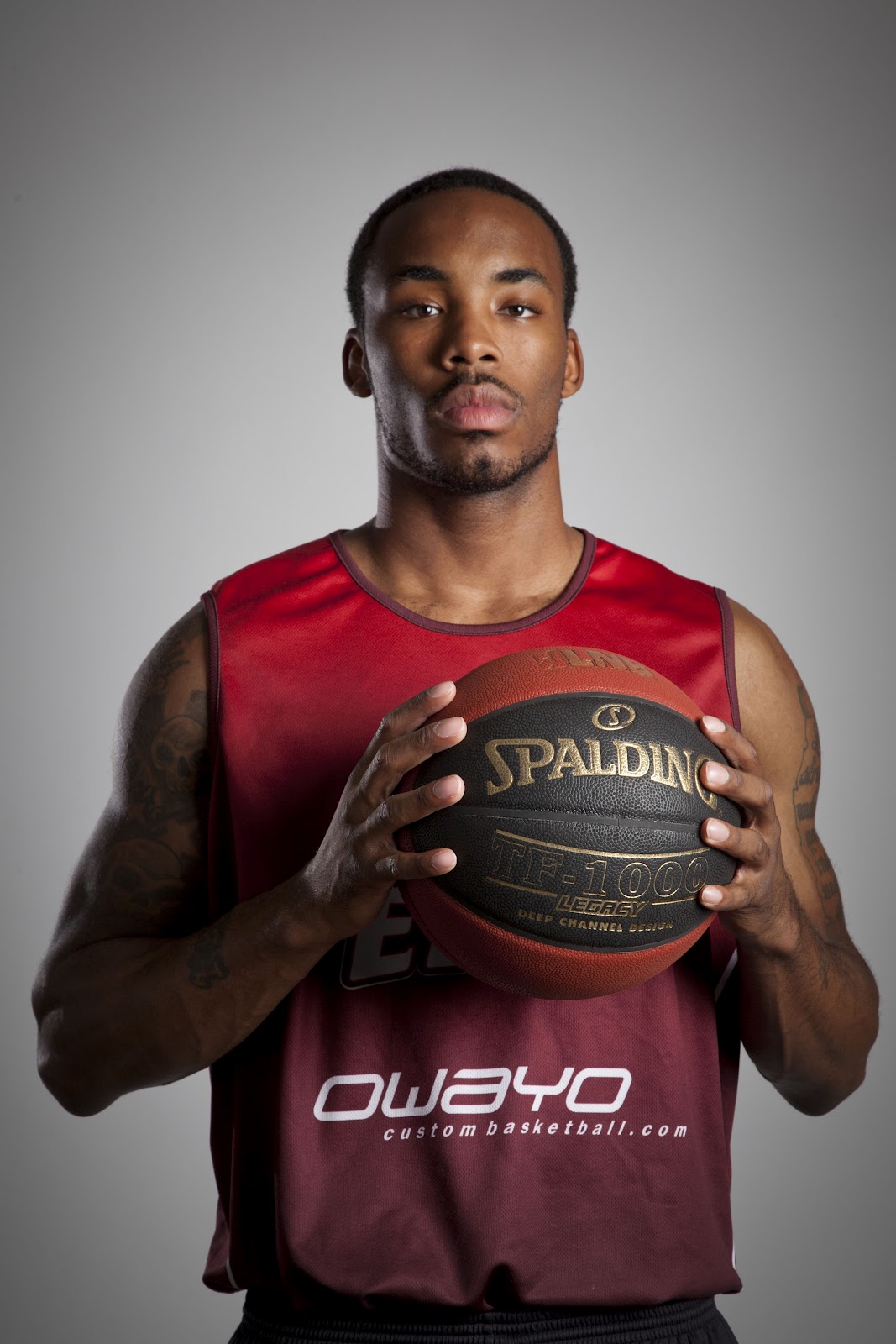 I 'll be frank… I really like seeing Xavi Pascual taking this direction in his choice and signing affordable players with an eye in his system. For better or worse Denmon is a "gamble" for Panathinaikos. He doesn't have the background or the star quality or bigger names with experience in the elite European level, who guarantee certain things in terms of individual performance. But the main focus is the team. A few days ago I wrote…
Panathinaikos needs to find the right "piece". Not the super hero. The "system" itself will take up this role. And if we get "there" (not an easy task), I guarantee that you're going to like it…
I must say that I was expecting a guard of a different financial status (I am not saying a more quality player, as in Hoopfellas we have a different view of how often this belief is confirmed). Hoopfellas' yearly MADE IN USA list, which included Denmon, is usually not about players of the highest EL level, where the "eternals" belong. To be honest, I had this player on my mind for the lower EL level, for teams like Zalgiris, Cverna Zvedza, or Brose. However, as I said before, the Greens would probably not find the superhero that would lead them to the Promised Land, even if they paid for a much larger contract. Marcus Denmon's functionality in this year's Panathinaikos largely depends on the way the team will choose to be structured, especially on offense. In an one on one offense (like last year's) the Missouri shooter will be inadequate and we 'll be hearing complaints soon. On the other hand, in a cooperation offense, similar to the one Xavi Pascual presented us in his years in Barcelona, Denmon has the prospect to be a very useful weapon for the "Clover". These choices are always risky. Is there the knowledge to develop him in your environment…?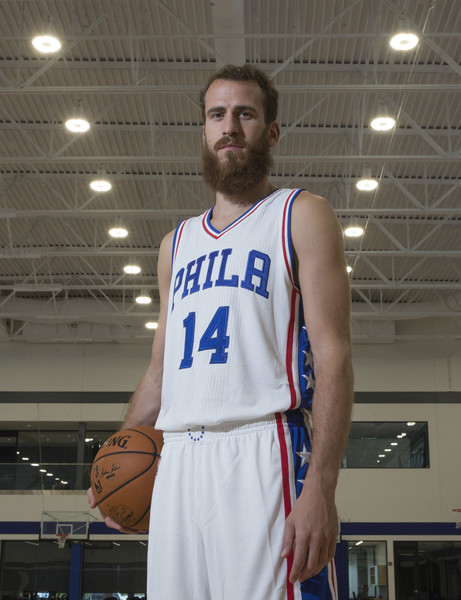 P.S.: The return of the hipster..? Itoudis, Teodosic-less CSKA, ball movement, up tempo offense, the curse that is still there. We'll experience great moments in Moscow in the new season…
Translated by: George-Orestis Zoumpos
Jim Katsionis