The technical excellence of the Croatians, the "Straight to the Hoop" Latvian and the "academic" assets of Wilbekin. Hoopfellas makes its first trip around Europe for 2018…
Hello, everyone. Amidst the season, just before the super-round of the Euroleague, Hoopfellas takes its first trip "Around Europe" and sets the agenda with some images from Europe. All aboard, we're about to start…
– Miro Bilan (2.13-C-1989) is one of Vincent Collet's main weapons at Strasbourg, although the French team has not yet reached the level that was predicted for them last summer, when building their roster. The Croatian Center had one of his best games of the season in the end of 2017, when he scored 21 points (9/12 FG), he grabbed 9 rebounds and dished 6 assists as Strasbourg beat Chalon 91-78. I have to say (I actually wanted to say this since October) that I found it a bit weird that the Croatian big man did not sign with a Euroleague club this season, and it seems even weirder that he was absorbed by the French League (as the season started, it was rumoured that Strasbourg's offer-I am not only talking about the financial part- was the best he had in his hands), and, as I recently mentioned when talking about Mickael Ojo, it's not the best environment for big bodies at "5". However, coach Collet has put together a very strong frontcourt with Louis Labeyrie and Darion Atkins next to the Croatian seven footer, and Strasbourg are trying to capitalize on their advantage in many levels, such as rebounds, and their ability to control the paint on both sides of the court.
In the last season, Bilan (whose monthly wages are a bit over EUR 35,000) had interested Armani Milan, and Jasmin Repesa recommended to the Italians' front office that the then Cedevita big man should have been one of the first players to get to Lombardy the next Offseason. Of course, he did not have in mind that in that Off season, he would not be on the bench at Mediolanum. Since we are confessing things, I have to say that at the end of the last season (with the way things turned out with Bourousis) I thought that Xavi Pascual would be interested in Bilan. My mind went there automatically, and I don't think I have to say why…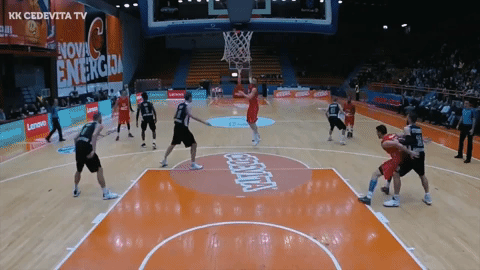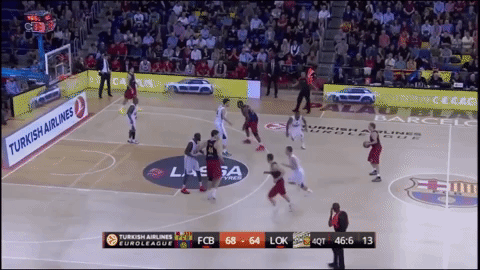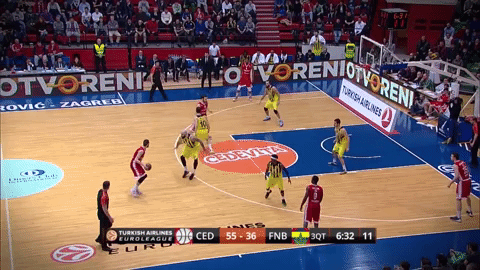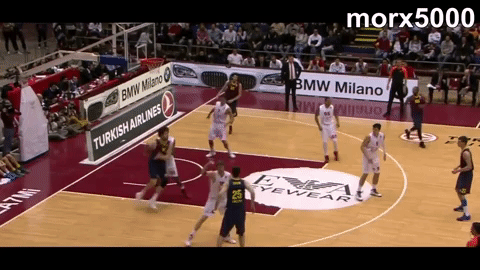 Bilan is a technically excellent big man, whose versatility and understanding of the game is close to that of Tomic (which is very flattering for the Strasbourg big man). He is very effective in the Low Post, his Post game is "refined", this is the kind of Center that would safely get the ball deep in the paint. But, mainly, he is a great passer. This is what fed my thinking towards this direction… Bilan is a player that has played at the highest level, and his name was well heard in the 2015-16 season with Cedevita, where he had 13.1 points, 6.1 rebounds and 2.0 assists in the top European competition. I have the feeling that Strasbourg is only a step in his career…
-Following a suggestion by Sito Alonso, last September Barcelona signed with a multi-year contract Rolands Smits (2.07-F/C-1995) and left him on-loan at Fuenlabrada. The Catalan club made a good investment in the Latvian international PF, aiming at strengthening their very strong forwards line even more. I personally like Smits, as I mentioned last summer in our Eurobasket post. I really like these Straight to the Basket big men. He is a very strong young player, well-trained, although he has to work on his technique. He shoots the ball well from behind the arc, he is a hustle player, and his motor (his strongest asset) is very rare for a European player of this direction. I think that this was the main point that made Sito fall in love with him, as he can be well absorbed in the way the Spanish coach wants to play in Barcelona.
Smits is having a very good year at Fuenlabrada (10.6 points, 57.7% 2 PTS, 38.6% 3PTS plus 4.5 REBS) and he improved after playing for an excellent Latvian national team at the Eurobasket. I repeat that his game is interpreted well in the coach Alonso's game, as he is a high energy big man, who can shoot and bring a "spark" on the court. Maybe he is one of the reasons why the Catalan technical staff insist on working with Vezenkof at the "3" position. Sito's philosophy for the new Barcelona, regardless of the results so far, is very interesting. We had pointed out a few years ago that the future of European basketball will rely on "footwork and playmaking"… Smits had the advantage that he was raised in Spain, as he has been playing basketball almost all his life at Fuenlabrada. On the contrary, the other Latvian, Rodions Kurucs (2.06-SF-1998), looks a bit bitter as for the second season in a row he is on the second team…
-In the end of November, I wrote in Hoopfellas' comments…
"Most of us didn't notice, but Terrence Jones is leaving the Chinese league (he had a fight with his coach) and he is again on the market… Jones is not just another NBAer that plays in China…
A strong F/C (1992-2.06) with several offensive skills and scoring and rebounding instincts, one that is not easy to find in this side of the Atlantic. What remains to be seen is whether anyone would take the risk with the former Wildcat…"
Jones had a fight with his coach in China and left Qingdao, where he had signed a dominating contract. He is now playing at the G-League (Santa Cruz), where his talent stands out. Since then (when he left China) I have had a chat with two European front office people about him, and the chance of him playing in Europe at a high level. Jones is a very good player.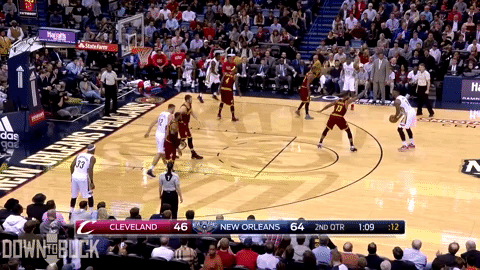 He really is…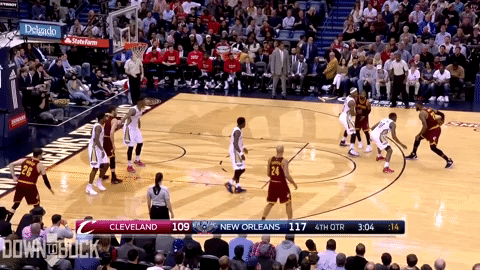 He is ready to play for a good European team, and bring strength in offensive rebounds, finishes in the open court and mainly production through 1 on 1 plays in the paint, where his ability to score in traffic (with contact) is extremely useful in this side of the Atlantic. The issue with the very talented former Wildcat is the lack of mental toughness and the doubt on whether he can commit to such a situation and give 100% of his powers and concentration, starting with a secondary role (which would work as a "shield" for his acclimatisation in European basketball). So, even though his package (he is very strong, long and athletic) would be a force to be reckoned with, the fact that he is easily disappointed and he easily loses his mind, make things a bit blurry.
-Scottie Wilbekin was the Eurocup Regular Season MVP, and he continues to improve under coach David Blatt. We talked a lot about Wilbekin last year, as it was obvious that he had chosen the right path , which sooner or later will bring him to the top. His is 24-year-old player who is playing 3 years at a high European level, and two full seasons at Euroleague level. He has worked for 4 years with the guru Billy Donoval in the Gators (this is where Wilbekin comes from) and almost 2 seasons with David Blatt. In 2014 he was the "general" of the great Florida team (Patrick Young, Michael Frazier, Dorian Finney-Smith) that got to the NCAA F4. A defensive-minded team with great athleticism, lots of pressure on the ball, open court, production from their opponents' turnovers. Coach Blatt has helped him boost his mentality, and the way he reads the game and manages himself.
His maturity is obvious now, as we are seeing him play the role of a leading guard in the decision-making part, which has brought up the clutch character that has been with him from an early age. At the same time he worked a lot on his defense. Wilbekin always had defensive instincts and he was efficient on defense, but he is now a complete, two-way guard (he had the best DRAT among PGs in the Eurocup with 101.2). In his first European destination, when playing for AEK, he played for a poorly-structured team and he was still very young. Mahmouti brought him to Darussafaka in 2015 for 280,000 dollars and Blatt asked that he stays with the team, activating his second year option (500,000 dollars), and made a quality and competitive player that can play in any European team at the moment, relying on his experience and his "hunger" to become the best. Wilbekin had an NBA-out and he is dreaming of going back to the U.S. (he got very close to a guaranteed contract with the Sixers two years ago, after an excellent SL), but he also knows that he can be the next great American guard in Europe, and walk the path of money at the highest level. The "academic" assets (in terms of basketball culture) he got from working with great teachers of our era are starting to pay off.
P.S.: The two great PGs of the Serbian national team of the 90's are "running" two of the best works in European basketball this year. Both Lokomotic Kuban and Bayern Munich are TEAMS led by their coaches. Their leader is on the bench. .. Sasha Obradovic has done an excellent job at Krasnodar and has put together a great defensive team (he is famous for his ability to build very efficient defenses) that plays the well known gritty basketball of the Serbian coach without a very high budget (ok, he paid a good amount of money for Babb…). It's also important that he is communicating well with the foreign players of his team, who understand what is required of them. The good thing about "Loko" in conjunction with coach Obradovic's profile is that the team is very efficient when attacking in the half court and this is what makes the team stand out among the competition in the VTB and the Eurocup. I have a good relation with the coach, and in the second half of the season I will try to have him here, at Hoopfellas, to talk about his plan and his philosophy for the Kuban project…
P.S.1: Since we mentioned Bayern… Coach Djorjevic found the low cost-off guard to support his offense this year as well. Bryan Hobbs (1.96-G-1989) does not have fancy numbers, but he has that exact package of "Shooting & Playmaking", garnished with a reliable defensive presence the Serbian coach likes. Hobbs had a good name in Germany (he played for Ulm last year) and he is a team player. He works well, especially within Sale's playbook through 1-3-1 with Jovic next to him in the backcourt. Sale has an eye for players of this direction…
Translated by: George-Orestis Zoumpos