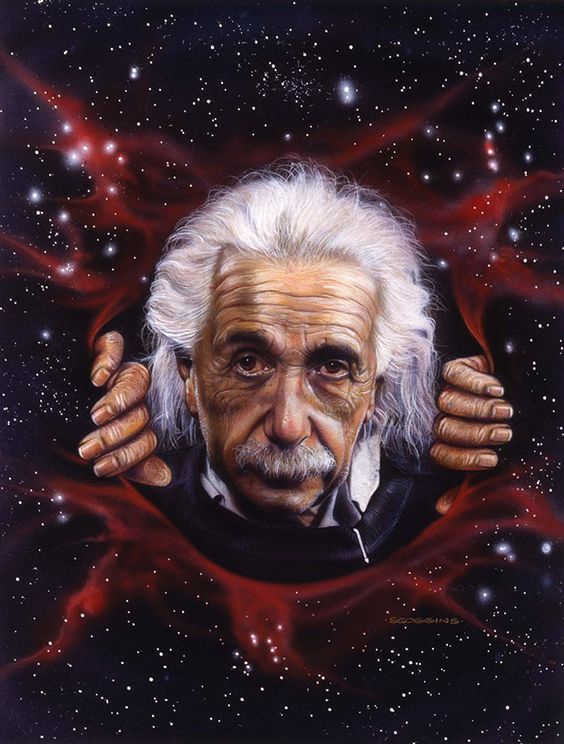 The Peace and Friendship Stadium and Olympiacos' defense is turning into a black hole that swallows the opponents of Giannis Sfairopoulos' team, and the ambitious Baskonia lived that stage of experiential learning. "Black hole": The problem with Singleton for Panathinaikos, who haδ an ugly experience on Thursday against the ready Fenerbahce of Zeliko Obradovic. Hoopfellas comments..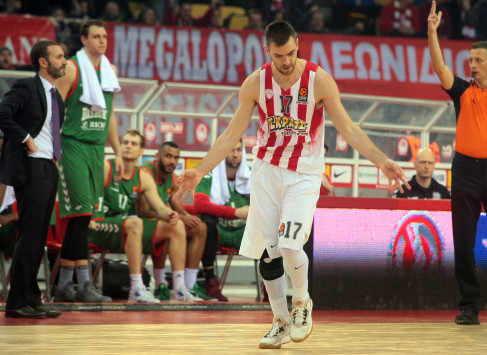 Black hole. This is what Baskonia experienced at Faliro against an excellent Olympiacos, who had one of their best performances of the Sfairopoulos era by beating a direct competitor both in the game and in the standings. Panathinaikos was poor at Istanbul in the worst game since Xavi Pascual joined the team. We are entering a week of double games, which, especially for Panathinaikos, may prove very important. Let's go…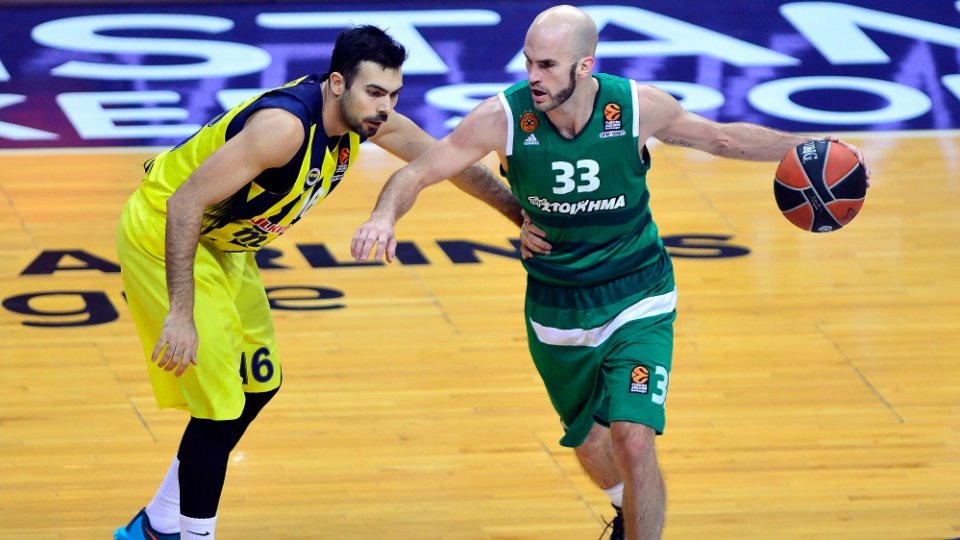 To be honest what happened at Ulker Sports Arena on Thursday night wasn't exactly unforeseeable. I was expecting Panathinaikos to have a difficult offensive night in Turkey (and their productivity to be what we saw), but it was my expectation that they would be more competitive through their defense and push themselves to the limit in this area. This was a bad fixture for them. Obradovic had prepared his team perfectly for a good game. He would be going against a team that was walking on clouds following a great away victory against the "eternal" for the Greek Cup. Fener was coming from a hard loss in the last possession at Belgrade and things were getting rather tight after losing four out of the last six games in the Euroleague. They were subconsciously getting ready for a battle. The scene was set…
The pluralistic nature of the Box offense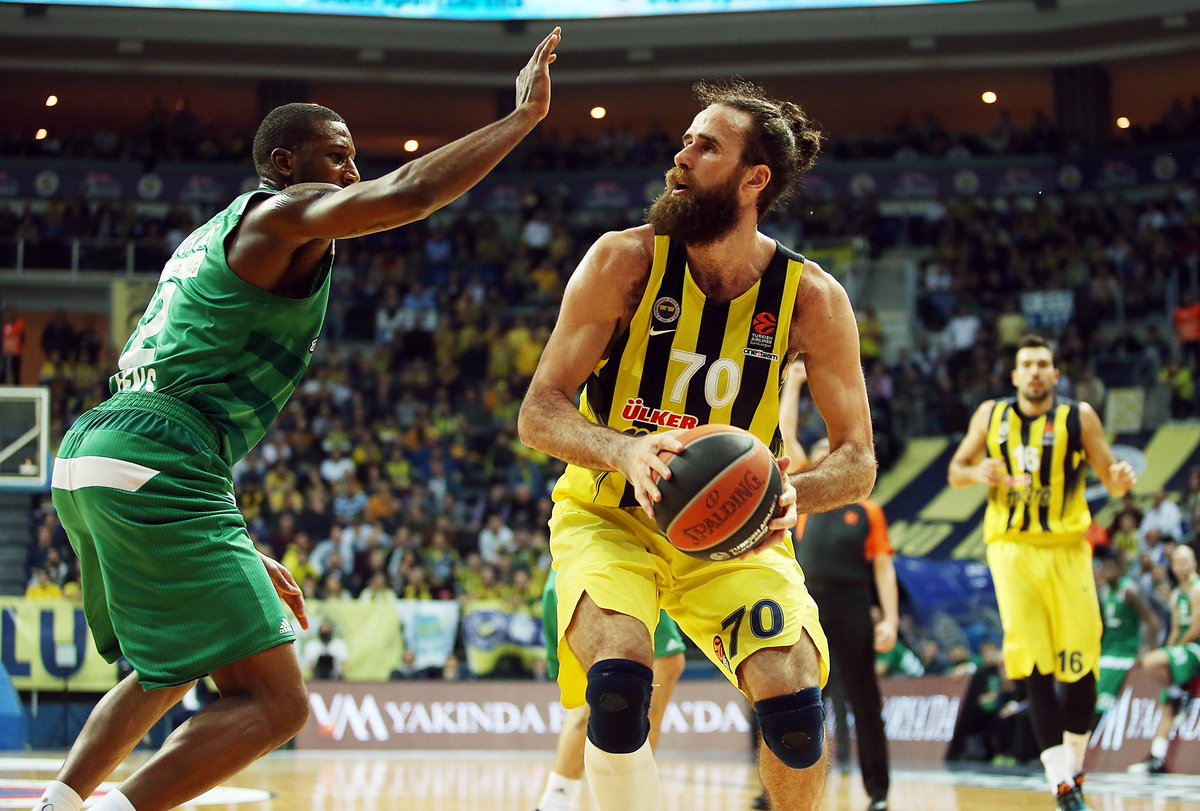 The nature of Fener's offense and the Zoc's general philosophy in this area (realism, decoding in high tempo, insisting on miss matches bordering on cynicism) was the biggest problem for the Greek team at Istanbul. The home team executed their plan perfectly. The Turks (in their last version, after Sloukas joined them) are a team with high perception of the game. Observe how ready they were to create a good situation each time on one or the other end of the court and attack with the odds being in their favour. A red siren would go off in every possession where they would attack on individually weak defenders of the Greens, such as Fotsis, Bouroussis or Gentile. Each time the ball would reach the player they had in front of them after a specific point, they would automatically go to attack mode…
A useful tool for introducing Fener's advantage in the battlefield and to expose their opponents' weaknesses was (for Obradovic) among others Box offense. Through actions that would begin from within a certain context, Fener was aiming to find easy execution close to the basket (mainly within a radius of 3.5-4 metres). Their versatility made them look like a rubber band that you "draw and release" in the hands of their guards (I had told you how different the Turkish team is with Bogdanovic, who develops their creative ability). After a horns screen, a staggered screen, or just a cross screen, sometimes in conjunction with Floppy for Datome, curling that open up ways for close execution, Box turning into a clean 3-2 Set or Drag screens in transition, the Turks would consistently find the good situation and they would strike. The key to their effort was the ease that they had in creating a breach (the lineups we mentioned that are not functional for Panathinaikos) by moving Panathinaikos' defense continuously. In essence they made the Greek defense run in half court, and with the lineups that had slow feet, the situation was difficult for the away team from the beginning. Both Sloukas and Bogdanovic would make players go to the strong side and they would use their dribbling ability to create imbalance by passing over the defense to the weak side, where there would be two players (usually one of them would be Datome, one of the most efficient close out players in Europe) who had an advantage against Panathinaikos' forwards. Due to the problem these situations would create, the Spanish coach of the "Clover" bet on the USA lineup for the second half (the five Americans), but Fener's offense was there and the circumstances were very bad for the Greek team.
Pascual had a very bad night and was unable to help his team find solutions. Since he joined his new team this was the first time it was that bad. I was left thinking that he saw that his team had no "spirit". They had no soul power, faith and appetite. The way they would execute the offensive playbook in many cases (I mean their body language) says a lot… Also, the lack of communication in defense (remember the play where Feldein was desperately waiting help from the centre of the paint in a Datome post-up, but Singleton was not even looking). Their screens reminded us (in posture) of a small child that was asked to give a public speech and feels ashamed.  With them, spacing and times were demolished. Zoc's Show and Recover tactics against Calathes (he used Soft Hedge in order to keep the ball in that point and stop any vertical breach of the defensive pair by the Greek guard and in general passes in the paint) and the Turks' size made developing communication between the main creator of the Greek offense and its executors very hard. Pascual used the "adjustment" of the games against Olympiacos by choosing Gabriel as the middle lane screener by targeting the involvement of Antic, not Vessely, but this time it didn't work (actually, most times  it's not going to work, because Panathinaikos simply doesn't have a PnR big guy). The PnR defense also had some problems (Show & Over with Singleton), especially when Bouroussis was on the court and Pascual would bring another player towards the middle lane (guard), which proved harmful in many cases, as the home team would find good outside shots. Nothing worked. Several Greens players, who are necessary for what the team is playing, are off form (Nichols and Feldein are far from their good performances for a month now). I wouldn't want to think what would happen if Panathinaikos didn't have one of the best one on one players in Europe in their roster. Besides, James came to open up ways in offense, when they are invisible. However, when Panathinaikos depends so much on the ability of this player, something is definitely not working well…
Duverioglou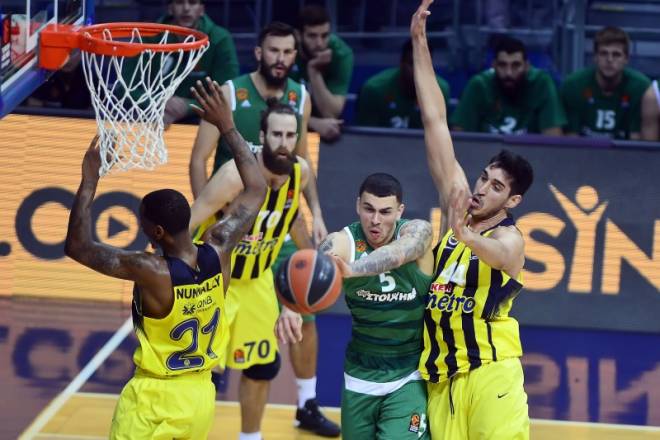 Zoc (just like every real coach) is used to rely on his role-players and play each card depending on what his team's performance gives. What happened with Duverioglou on Thursday was not a coincidence. Udoh was out, a home game against a frontcourt that has its weaknesses (lack of strength and athleticism in many of its forms), a proper background for the 24 year old big guy, who, when called to play this year, showed that he can help his team. Duverioglou (yesterday he had 10 PTS-10 REB against TED in a match where Mahmutoglou scored 16, the 21 year old Ugurlu 7 plus 7 assists and the 20 year old Arna also 9) is a quick and long big guy with good perception and timing around the rim. He knows how to lower his body and put the ball on the court, he has the ability to play on the middle lane in half court. The level of energy the Panathinaikos defense had in the paint created the best possible circumstances for the Turk C/F, who felt comfortable, as he was allowed to feel comfortable from the beginning.
Believe it or not, one of the main problems for Panathinaikos is that they don't have a … Duverioglou as a backup in their frontline. A role player to give more energy in games where the core players are worn out.
Now what…?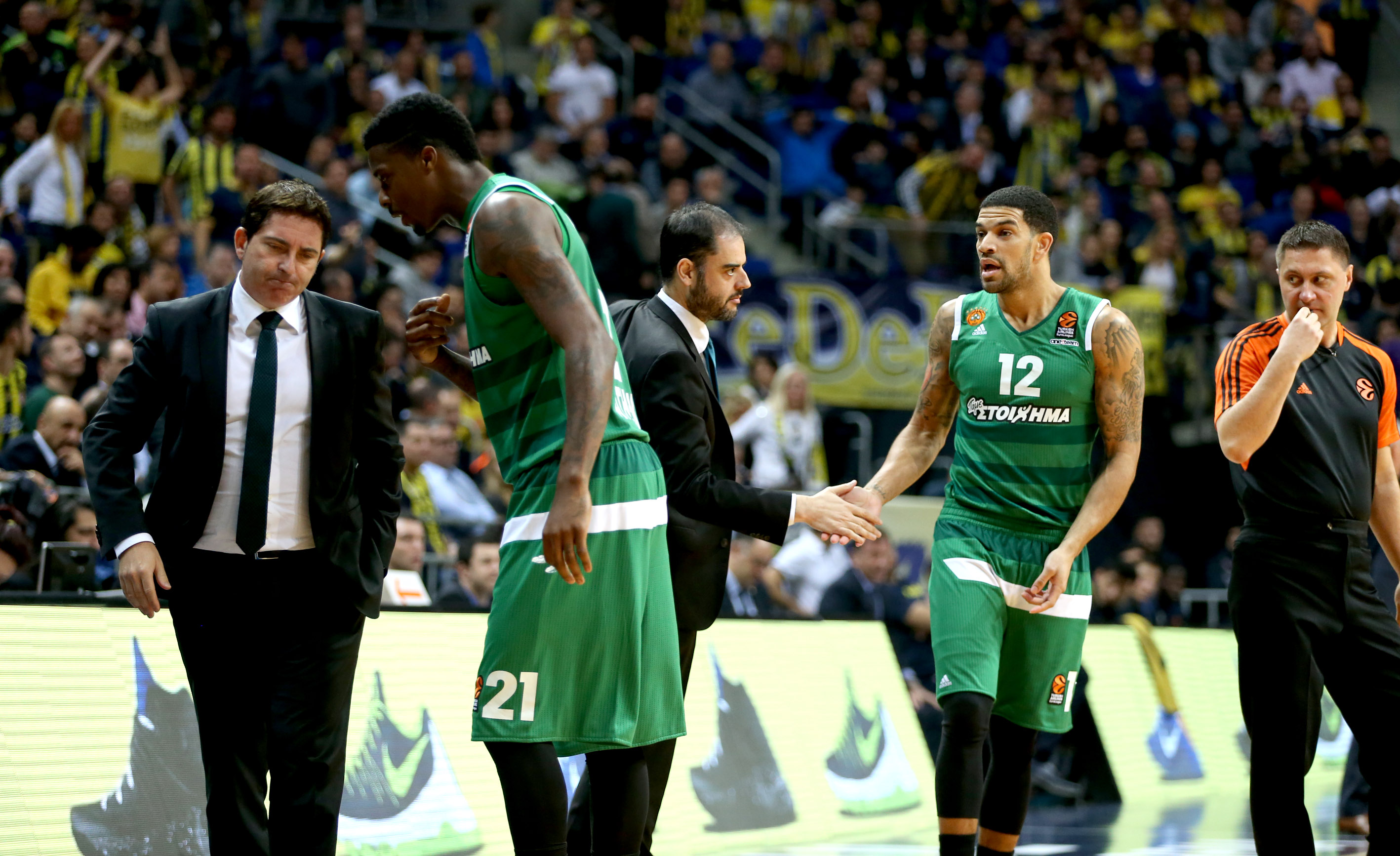 This was unfortunately a night that showcased some of the Greens problems that we have talked about for a while now. The problem with Singleton forces Panathinaikos to take a hard look in the mirror. Xavi Pascual's team (that is in the same place in the standings as Red Star and Darussafaka) enters a critical week of double games and the chance of having only one "5" looks possible. That will be the point where they will really feel the wrong approach in replacing Gist and staying "naked" at a crucial time. Our site pointed out their mistake of not having three player depth in the "5" position. Leave aside everything we've said on the backcourt's playmaking and Gabriel's skills or the Gentile choice. This time we are talking about something simpler, more practical. Numbers. In case Singleton is not able to play, Panathinaikos will be in trouble. On the other hand, a relapse of the injury will cause much more trouble. It's not bad luck. It's wrong handling. Panathinaikos must come together and use all available players in order to win at least one match in the upcoming week. Coach, we are waiting for your response.
Downhill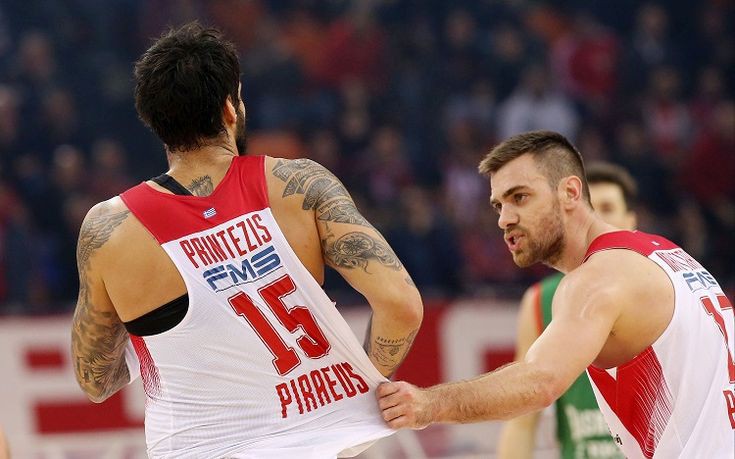 Olympiacos was a bulldozer and walked all over Sito Alonso's Baskonia by producing a win that was heard all around Europe. This was a night where the Reds, against a team that theoretically and based on their performance so far, their speed, grabbed their opponents by the throat and pounded them without mercy until… they were separated by eye witnesses to avoid a more brutal crime.
Olympiacos played total basketball (against a team that a non-stop style suits them) by playing perfectly and with tons of energy that were the basis for the successful execution of the plan. The home team played excellent defense in all levels (communication, speed, physicality, concentration) and put the pressure on the ball very well. To be honest I haven't seen a Baskonia opponent going after them so fiercely until the last second and leave so few uncontested shots. This means spirit, duration and increased effort against an athletic team with certain talented players. Olympiacos did a great job on Larkin (3/13 FG, 2 assists-3 turnovers) and was lucky enough to be successful in several personal defensive plays, which made them lose their morale, which is an area in which they are not so strong.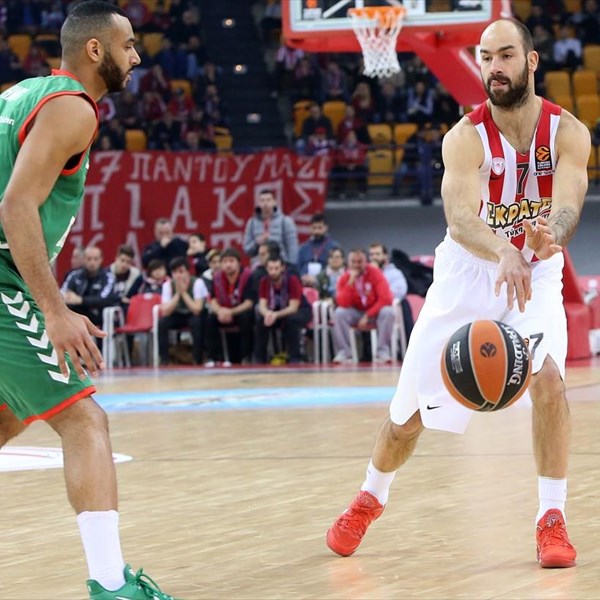 The Reds' dominance on Friday night is portrayed in the way they won most of the battles in the paint. The Reds had 17/21 FG in the paint and players from all their lines scored in the heart of the paint. A great example is Green's tendency to go toward the inside of the paint, (the nature of their opponents' guards helped him), whereas Sfairopoulos' big guys worked extremely well to open up spaces by using their bodies as a shield. Since we're talking about big guys, we should mention that Patrick Young seems to slowly but steadily reach the physical/athletic targets he had personally set after his injury (14.5 minutes/4.8 rebounds in the last six matches, which equal 13.2 REB per 40'). I hope that we will soon see them from the former Gator.
Papanikolaou…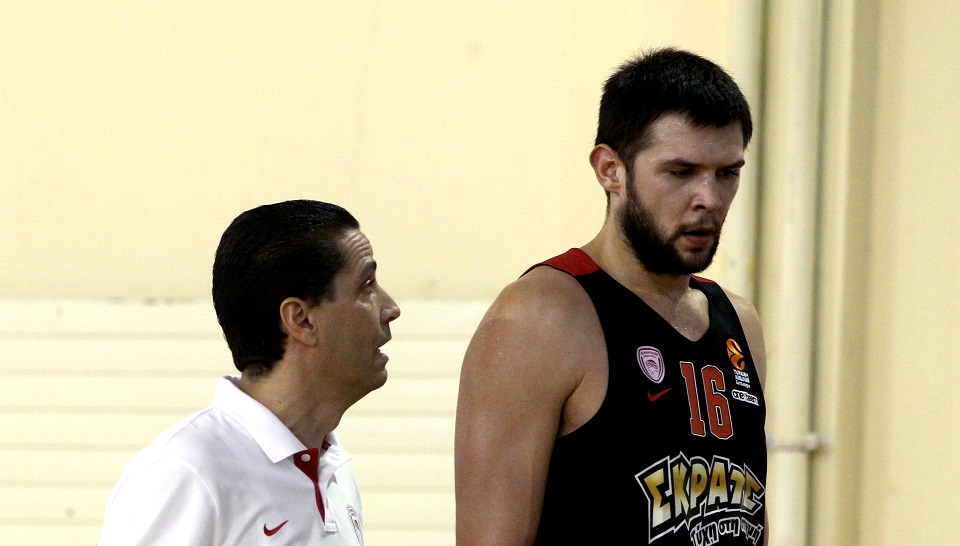 One of coach Sfairopoulos' most important achievements in regards to this year's version of Olympiacos is the fact that for some time now he has turned the switch in Costas Papanikolaou's game. The Reds coach patiently embraced the case of the international forward and tried to incorporate him through defense, the part of the game where the player feels comfortable and the part of the game through which he builds his performance each night. Now, with Hackett being injured, his role as the Defensive Stopper in the backcourt is of even greater important…
In the first 10 games of the season, the 26 year old forward had 4.8 points and 3/25 three-pointers in 18.4 minutes. In the 8 matches that followed (the beginning being the home game against Unics), Papanikolaou has 9.1 points with 9/18 three pointers, 6.0 rebounds and 1.5 steals, and Olympiacos has 7 wins and only one loss at Bamberg.
Papanikolaou is turning into an all-around player and the main advocate for the style of game his team wants to present this year. He brings energy, runs (pretty good on transition defense), works well against the opponent's screens (when defending either on or away from the ball) and he wins many possessions with his experience. Don't forget this player's past. The key to his mental profile is to be able to shoot decently from position and in total to have an above average offensive game. He has certain weaknesses (very limited with the ball, which most times turns him into a non-factor in close out offense, has not worked on his post ups) and he should not try to force situations. However, he supports, mainly based on his motor, quite well the style of basketball coach Sfairopoulos has chosen to play this year. His game away from the ball (in both offense and defense) is a factor for Olympiacos' total performance and his athletic ability is a prerequisite in order for the team to run next to teams such as Real or Baskonia. Against the Basques, "Pap" had his best games so far this year.
Today's Olympiacos among his competitors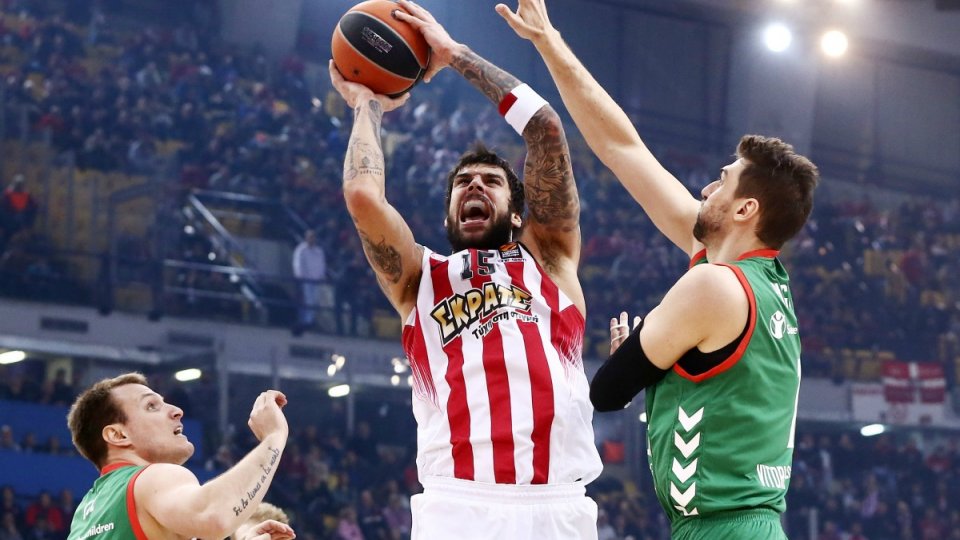 Setting aside the excitement nights such as last Friday's may cause, Olympiacos should remain focused on their target, which is clearly the home advantage and in total finishing in the best available place in the regular season. We are closing in on a point in the season where the really good will start standing out. Olympiacos' range seems to be between the second and the fourth place; however we shouldn't forget that he is just one match away from CSKA and essentially three (2 wins + the advantage between them) from Baskonia. The Reds have the game right where they want. This year they have more offensive firepower following the current European basketball trends. They have not yet reached the levels of Real or CSKA, but this is enough to be in the elite in conjunction with maybe the best defense in the competition today (Birch's performances being of great importance). This years' Olympiacos has all the components to go up and play at 80+ points and his great advantage is that they have fourth quarter scorers. So, at this point they are in a great shape, which they created themselves. However, they need to be consistent and endurable. Fener is on their way up (with Bogdanovic back in action they seem to be the favourite for the home advantage), Real has tons of quality. Four games against teams outside the top-8 follow. This is their chance to shine…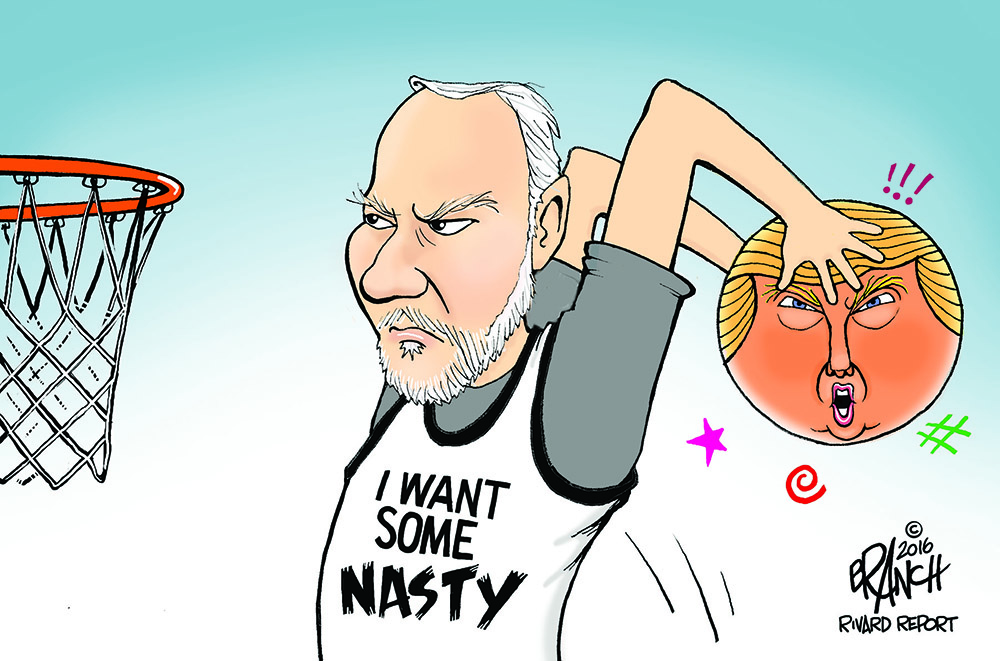 P.S.: Everyone is talking about the Warriors and Lebron; Our page sees a great chance for the Spurs to reach the Promised Land. I am dying to see Trump welcome coach Pop at the White house…
P.S.1: You can vote on which of the three Gordon Hayward plays you like the most…
Αυτό (το τρίτο)  δείτε το από τα 20» (η λήψη αυτή δείχνει το μέγεθος της ενέργειας)
By Jim Conway
Μετάφραση: Ορέστης Ζούμπος